Wrightsville Beach Pictures
North Carolina, United States
We decided to go and try to find Wrightsville Beach which was north of us from Carolina Beach State Park.
Wrightsville Beach also had parking meters by the beach, and the charge was rather expensive.
Such as 2 minutes for a nickel, 4 minutes for a dime, and 10 minutes for a quarter.
We fed a lot of our spare change into the meter and upped it to 2 hours.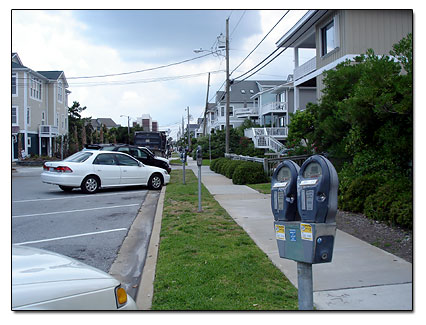 Wrightsville Beach looked very cozy and well maintained. The water was warm, turquoise, and the sand was a soft yellow to light grey sand. Occasionally, I spotted a seashell.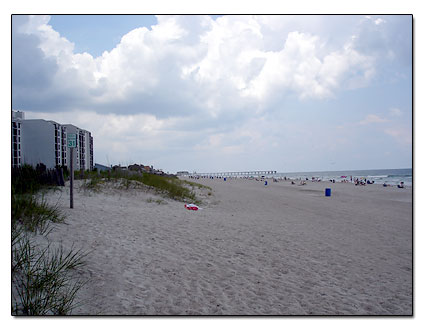 We went to the beach and it wasn't even a half hour and it started thundering, lightening, and then pouring raining,. We thought of our uncovered tent back at the Carolina Beach campsite. Oh dear.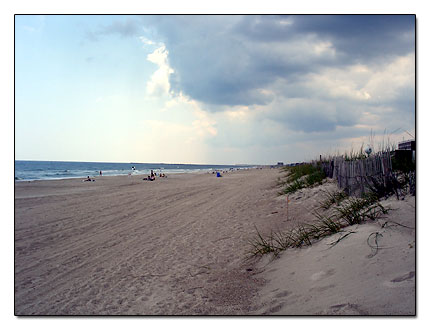 We hung out at the beach in our car, not wanting to waste all the minutes we just fed the meter, but alas, it wouldn't stop raining, so we headed back to the campground.
The Wrightsville Beach area had lots of little condos and apartments and a shopping strip. But I couldn't take any pictures because of the storm.
When we got back to the Carolina Beach campsite, sure enough the tent had leaked a little. All the firewood was wet, so we decided it would just be better if we checked out and left. We packed all of our wet stuff, shaking off as much water as possible, and left. It was night. We followed a hwy that was near the shoreline, but couldn't see much.
More Pictures of Wrightsville Beach NC
- Picture of the Wrightsville Municipal Complex... Municipal Complex
- Picture of the intersection going into Wrightville Beach... Wrightsville
- View of the beach, we stood under that beach tent while it rained... Wrightsville Beach view
Wrightsville Beach Motels
Wrightsville Beach, North Carolina - Wrightsville Beach hotels
- Holiday Inn Sunspree Resort Wrightsville Beach, Nc 1706 N. Lumina Ave. Wrightsville Beach, NC
- Blockade Runner Resort And Hotel 275 Waynick Blvd Wrightsville Beach, NC
- Shell Island Resort 2700 N. Lumina Avenue Wrightsville Beach, NC

Fourth Stop - Shoney's Buffet in Georgia
---
Cooltan - Tan Through Swimsuits
- Here's a new product on the market that you can't buy in a store. Now you can get a tan through your swimwear! Cooltan Tan Through Swimwear works like a medium level sunscreen. Look great and eliminate tan lines!
Popular US Hotels - If you need a place to stay on the East Coast while at a beach, see a list of all the popular hotels, motels, inns and suites by state.