West Dennis Beach
Popular Cape Cod Beaches
These pictures were taken at West Dennis Beach.
To tell you the truth, we were shocked to see how big West Dennis Beach is.
It is sooooo long, and the views are awesome, especially of the beach homes near the marsh.
Of course the first thing that greeted us was the West Dennis Beach sign.
The next sign says they are open from 8 in the morning till 5 in the afternoon, along with some other regular beach rules and regulations.
How much does it cost to get in? Unknown. We got there before 9am and stayed all day. But my guess is it's between $15 and $20 dollars.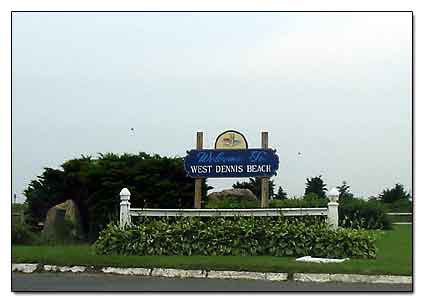 Then we cruised the long strip of road, along the beach. Parking is right next to the beach wall, and their isn't a boardwalk.
Dennis beach did not appear to be really wide, but it seems the beach reached all the way to the point. The picture below will give you a little idea on how it is set up. There are also 2 small parking lots by the bath house and snack bar, which is where most sun bathers congregate.
I can understand why, because the food at the snack bar is really good, not your usual quickie food. We got the chicken filet sandwich and a large french fry which was plenty. Don't order 2 large fries, it's too much. If you order a large pepsi then you get a huge 16 oz slurpper.
The bathhouse had one shower in the ladies room and I took advantage of that since the ocean was so salty. As the day progressed, I noticed that most people get in the water but did not swim, they just stand there and talk.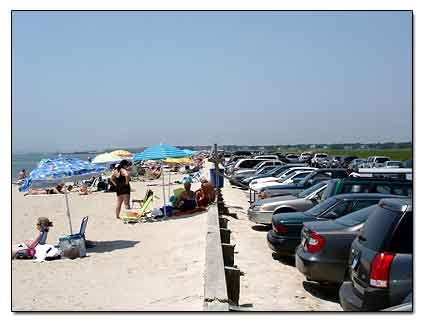 The sign says, No lifeguard is on duty, so use at your own risk. But on this day July 3rd the lifeguards showed up at nine and stayed till 4pm. West Dennis beach also has a playground for the kiddies by the bathhouse.
The whole stretch of beach was pretty packed with everyone having there own little spot with their beach umbrellas and beach chairs and a book to read. Kids played in the sand which was a light tan in color and kind of granually. In other words it's the kind of sand that falls off your feet when they dry.
We stayed at West Dennis Beach all day long and swam and snorkled, and didn't hear the lifeguards blow their whisles once. The water was calm and was waist deep for a long way out. People were allowed to have floats, do snorkling, etc. no problems , unlike Burlingame State Park in Rhode Island where we were hearing the whistle every 5 min for something and they wouldn't let us snorkle, no floats etc.
All in all we had a great relaxing time at West Dennis beach, it was fun and we would definitely do it again. See a picture of the beach when we first got there West Dennis beach morning They have a kite flying area, and a wind surfing area. Also right next to West Dennis Beach is the Lighthouse Inn
Massachusetts Motels and Hotels
Find a motel in Cape Cod here:
Popular Massachusetts Hotels
---
Cooltan - Tan Through Swimsuits
- Here's a new product on the market that you can't buy in a store. Now you can get a tan through your swimwear! Cooltan Tan Through Swimwear works like a medium level sunscreen. Look great and eliminate tan lines!
Popular US Hotels - If you need a place to stay on the East Coast while at a beach, see a list of all the popular hotels, motels, inns and suites by state.