Palm Beach
America's East Coast Beaches
on the United States Shoreline
On our roadtrip we bypassed Miami and headed north on A1A to Palm Beach.
We didn't realize that there was a Palm Beach Shores, West Palm Beach, and North Palm Beach too.
So some of the pictures could be from any of these locations, but I'll list them in the order that we drove.
The Palm beaches were very nice, and the surrounding estates were awesome.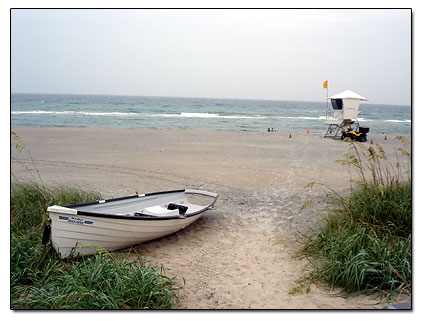 This first picture is a cool picture of Palm Beach with a boat in the foreground.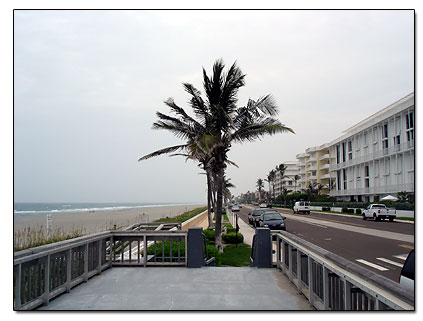 This picture is looking south. Parking is metered along this stretch of beach.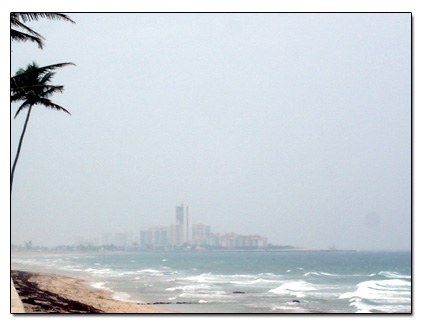 A view north from Palm Beach, this may be a foggy North Palm Beach.
Next Stop Juno Beach, FL
More Pictures of Palm Beach Shores
- The first view we had of the ocean and a coconut tree, probably at Palm Beach Shores... Palm Beach Shores
- Palm Beach Hwy view on A1A, palms line both sides, driving north... shoreline highway view
- A sample of the styles of estates that line A1A... estate front view
- This is a mishot, someone fertilizing the lawn, but the palm trees are nice... palm trees
- A huge historical estate at the corner of South Ocean Boulevard and Via Bellaria... old estate
- An ornate entrance to a huge estate... view of estate
- View of the shoreline drive in Palm Shores, beach is to the right, condos to the left... Palm Shores Condos
- A sign with the Palm Beach rules... Palm Beach rules
- The Palm Beach Warning Flags and Rip Current Instructions... warning signs
- An interesting flowering bush with hanging flowers that seems to grow abundantly in Florida... flowering bush
- A type of huge tree that we've never seen before... strange twisted tree
Popular Hotels in Palm Beach and West Palm Beach
Palm Bay, Florida - Palm Bay hotels

Palm Beach, Florida - Palm Beach hotels
---
Cooltan - Tan Through Swimsuits
- Here's a new product on the market that you can't buy in a store. Now you can get a tan through your swimwear! Cooltan Tan Through Swimwear works like a medium level sunscreen. Look great and eliminate tan lines!
Popular US Hotels - If you need a place to stay on the East Coast while at a beach, see a list of all the popular hotels, motels, inns and suites by state.