Scarborough Beach, Maine
America's East Coast Beaches

So to continue on our journey to find Scarborough Beach, we had to detour to Hwy. 1 instead of taking 1A because they are repaving the road, so we're going a bit out of our way.
We just passed another campground called the Wild Duck Campground, but missed the turn.
Coming to a large intersection we saw an All you can eat Buffet...cool we'll come back for breakfast.
We turned right at Black Point Road.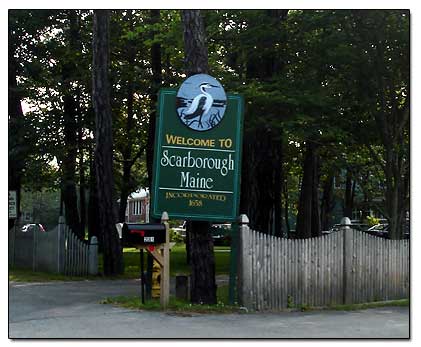 It seems Scarborough is not such a small town after all. It's pretty big. We passed the Scarborough fire department in which I tried to take a picture.
So to keep searching for Scarborough Beach were heading south on Black Point Road we flew right by Scarborough Beach and geez they are already charging to get in, he wanted 8 dollars from us so we turned around and headed out to explore Prouts Neck.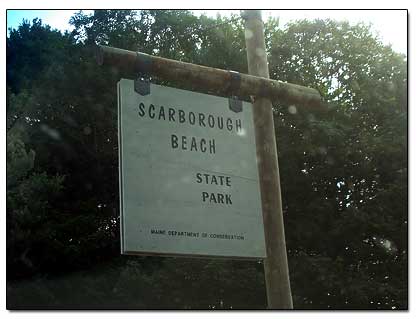 The first things we passed was Prouts Neck Country Club, then an Inn and took some pics of Garrison Cove.. The street then deadends and turned around. We could see Old Orchard Beach from this point because they are building a huge hotel called the Grand Victorian, and we could spot it.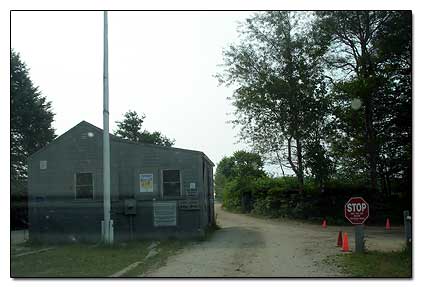 On the way out we saw a sign that said ferry beach, public way to beach, so we checked it out. All of the other signs said No Beach Access. The first thing you pass is part of the country club golf course.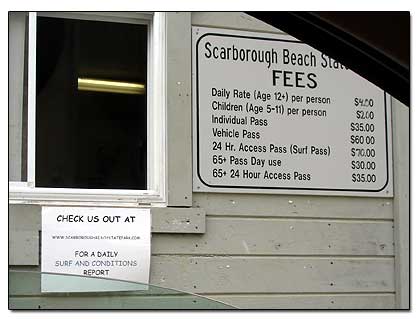 Arriving at the Ferry Beach, they wanted $10.00 to park, so we told them we weren't parking and did a turn around. So we don't have a picture of the beach, just what is there as a beach access. But what is this $10.00 parking fees? That's the same prices they are charging in Florida!
Okay we're heading back to that All You can Eat Buffet on Hwy. 1. Getting pics of Scarborough Beach and Ferry Beach was a bust. But at least we know what it costs to get in. And taking 1A would have been an easier route.
We passed a couple motels on Hwy. 1 going south so I took their pictures. We stopped at the All you can Eat Buffet and it turns out to be called Dunstan School Restaurant. It's probably the most upscale buffet we've ever been in and the selection was rather good. The cost for breakfast was $7.95 a person plus what you drink. They have extensive menus for lunch and dinner. Right next to Dunstan School is Goldsmith's Sporting Goods Store and the Pooh Bear Care, a licensed Day Care.
But while we were in there eating it started pouring rain outside with a bit of thunder, we weren't expecting that and hopefully it will stop so we can get some more pictures of Old Orchard Beach.
It stopped raining and we took route 9 back to Old Orchard beach, on the way we passed a Scarborough Marsh Canoeing, Ken's Place Seafood Restaurant and then Bailey's Camping Resort.
More Pictures near Scarborough Beach
- The Scarborough Newspaper is called the Leader... the Scarborough Leader
- The All You Cann Eat Buffet in Scarborough... All You Can Eat Buffet
- The Clambake Seafood Restaurant... Clambake Restaurant
- Ken's Place Seafood Restaurant... Ken's Place
- Dunstan School Restaurant... Dunstan School Restaurant
- Dunscan School Buffet is the fanciest buffet we have ever been in... view of building and their brochure and the back of the brochure
- The Admiral Motel... the Admiral Motel
- Picture of the Moosehead Motel... the Moosehead Motel
- The sign for the Scarboro Downs... Scarboro Downs location
Motels in Scarborough Maine
Scarborough, Maine - Scarborough hotels
- Residence Inn By Marriott Portland 800 Roundwood Drive Scarborough, ME
- Fairfield Inn By Marriott Portland Maine Mall 2 Cummings Road Scarborough, ME
- Towneplace Suites By Marriott Portland Scarborough 700 Roundwood Drive
- Black Point Inn 510 Black Point Road Scarborough, ME
---
Cooltan - Tan Through Swimsuits
- Here's a new product on the market that you can't buy in a store. Now you can get a tan through your swimwear! Cooltan Tan Through Swimwear works like a medium level sunscreen. Look great and eliminate tan lines!
Popular US Hotels - If you need a place to stay on the East Coast while at a beach, see a list of all the popular hotels, motels, inns and suites by state.