Fernandina Beach
Northern Florida Beaches
Our goal in northern Florida was to go see Fernandina Beach, we had heard it was really nice, and it is.
The problem was when we drove there, tropical storm Alberto was upon us and the wind was whipping.
Fernandina Beach is a quaint little town and we really liked it, and if it wouldn't have been so hot, we would have thought that we were back in New England.
Below are some pictures we took the few minutes we were there. Our car was getting sandblasted, and sand was flying so hard it was stinging our legs.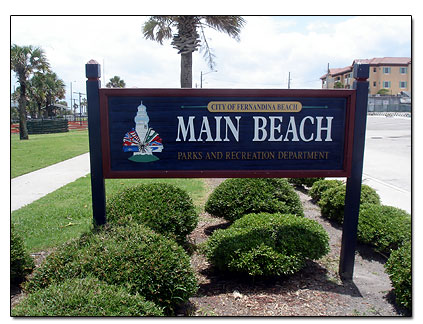 They have a nice park with a playground, some restrooms and a waterfront restaurant called Sandy Bottoms.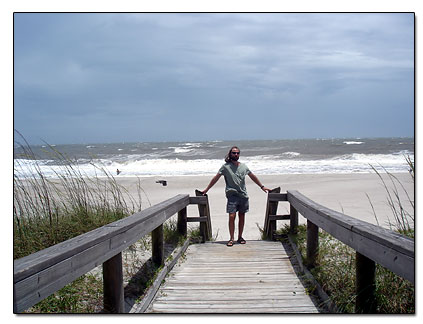 In the picture below you can see how hard the wind was blowing from the storm bands of Alberto.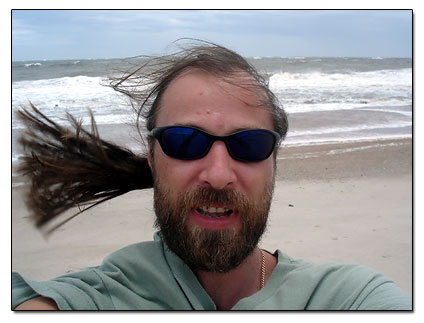 The beach is empty today because of Alberto. There were a few walking down by the surf.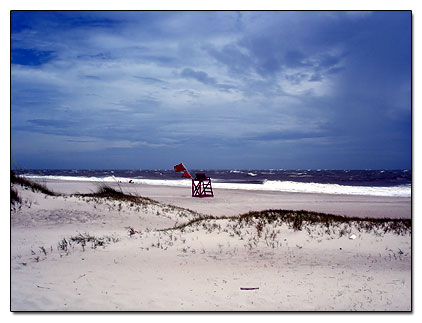 We spent two days in Callahan, Florida, and honestly if there is one place you would like to move in Northern Florida where absolutely nothing is going on, Callahan Florida is the place.
Their major attraction there is the railroad depot, and the Chamber of Commerce is there. The only other attraction is the Callahan BBQ that is a local hangout, and they have the best BBQ around. It's located at the main intersection in town. location
South of Fernandina Beach is Mayport Beach, Atlantic Beach, Neptune Beach, and Jax Beach. I wish we could have visited them all but Alberto kept us from going anywhere. We'll have to go back.
More Pictures of Fernandina Beach Florida
- Front view of the restaurant called Sandy Bottoms... Sandy Bottoms Restaurant
- View of the Coastal Waterway on the way to Fernandina Beach... Coastal Waterway
- A sign that says Welcome to Amelia Island and Fernandina Beach... welcome sign
- A view of the rolling waves at Fernandina Beach during Alberto... ocean beach waves
- The area where we parked at Fernandina Beach... beach entrance
- A view toward the beach, wind whipped palm tree, and Sandy Bottoms Restaurant to the right... beach scene
- A picture of the wild ocean waves and the lifeguard stand... beach and ocean
- A picture of the boardwalk as Alberto blows sand across it... boardwalk
- A view looking north at Fernandina beach... Fernandina Beach north
- Another picture of the wild Atlantic Ocean surf... ocean surf
- All the wave action made a seafoam... ocean seafoam
- The Fernandina Beach Playground... beach playground
- A view toward the beach from the restrooms.. view toward beach
- A picture of a church in Fernandina Beach... Fernandina Church
- An old building that was the oldest I saw... old building
- Picture of a typical style of home in Fernandina Beach... Fernandina home
Places to stay at Fernandina Beach
Fernandina Beach, Florida - Florida hotels
- Inn At Fernandina Beach 2707 SADLER Rd. Fernandina, FL
- Best Western Inn At Amelia Island 2707 Sadler Rd. Fernandina Beach, FL
Comments about Fernandina Beach
I just wanted to share with you, I just was surfing the net and came upon the pics of Fernadina that you had on there.. we have been going to Fernandina for about 25 years now, went there on our honeymoon, my husband and his family as he grew up went there so thats been about 50+ years now..

It is our most fav. place to go , we love it, we have seen it change a lot over the years. But the old places we used to go are still there which is why I love it.. next time you go if you havent.. go to the Palace Saloon and have a strawberry daquiri and they used to give out popcorn and that was our fav thing to do.. is sit there in the old saloon and just enjoy the people.

Thanks for sharing all your pics.. we were just there 3 times this summer and was even in one of the tropical storms.. dont think I would want to be there in a hurricane because that was enough for me...
I hope you can visit again and have pretty weather because it is a great place, we are even looking at condos to retire there in about 6 years!

Thanks again
R. Sherwood

Next stop Helen GA Alpine Village

---
Cooltan - Tan Through Swimsuits
- Here's a new product on the market that you can't buy in a store. Now you can get a tan through your swimwear! Cooltan Tan Through Swimwear works like a medium level sunscreen. Look great and eliminate tan lines!
Popular US Hotels - If you need a place to stay on the East Coast while at a beach, see a list of all the popular hotels, motels, inns and suites by state.