Callahan Florida Pictures
Northern Florida
After eating at Shoney's buffet, and easily traveling thru Georgia via Interstate 95, we set the GPS to Callahan Florida where our relatives live.
Unfortunately we were unable to contact them to let them know we were in town, and so we kept traveling south on Highway 301. So this page is going to be my catch all of things we did on Highway 301. We stopped in Callahan also on the way out of Florida.
Hwy 301 was a bit slow, and it started to get pretty hot outside, so we stopped at a roadside Orange Juice Center and purchased some fresh squeezed orange juice.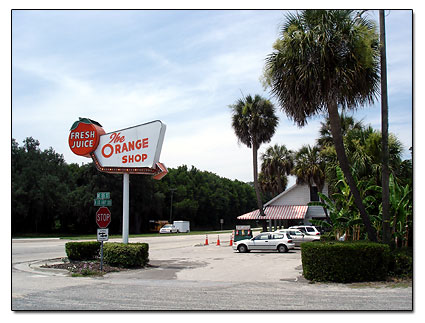 It was really good. This Orange Juice Stand also had a small orange tree orchard.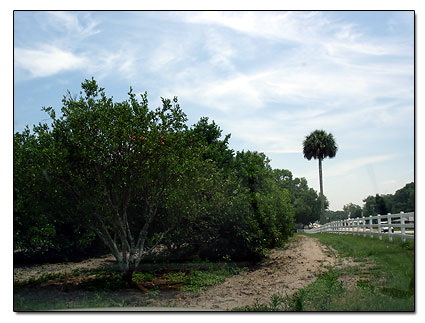 We sat on their porch and enjoyed some fresh squeezed orange juice.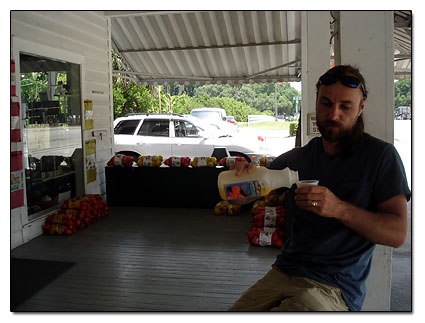 Most of Northern Florida did not seem to be that well maintained as far as landscaping, and there were several construction projects going on.
You could tell that Highway 301 was popular at one time, but since they put in the interstate, it had deteriorated at bit. All the small motels located along this strip had vacancies, but we did not know it was the off season.
At this point we began tossing around whether we should go to Disney World and searched our Microsoft Streets and trips for campgrounds nearby. Most campgrounds near Disney World seem to be located on Highway 25 off of the Florida Turnpike.
By this time it was starting to get pretty hot inland and we turned on the air conditioning, and set our sights on the nearest beach to us that was on the way to Fort Myers. We decided to head to St. Pete Beach.
Pictures of Callahan, Florida
- A highway sign telling us we're 27 miles from Fernandina Beach, Atlantic Self Storage in the distance... highway sign
- The Callahan Mall is a small strip of stores... Callahan Mall
- The major attraction in the mall is The Pig Restaurant which serves BBQ too...The Pig Restaurant
- The popular local restaurant called the Callahan Bar B Q... Callahan BarBQ
- A Callahan neighborhood on Quail Road that is building new homes... Callahan neighborhoo
More Pictures of Northern Florida
- A closer picture of the Florida orange trees... Florida orange trees
- Two different types of palm trees... palm trees

See also Fernandina Beach

Sixth stop... St Pete Beach
---
Cooltan - Tan Through Swimsuits
- Here's a new product on the market that you can't buy in a store. Now you can get a tan through your swimwear! Cooltan Tan Through Swimwear works like a medium level sunscreen. Look great and eliminate tan lines!
Popular US Hotels - If you need a place to stay on the East Coast while at a beach, see a list of all the popular hotels, motels, inns and suites by state.