Marconi Beach
Cape Cod Beaches
We drove back out to Hwy. 6 and took pictures of restaurants along the highway.
Then we ran into a Marconi Area, and followed the road to Marconi Beach, but was greeted by a ranger that wanted $15 to get into the Marconi Beach area.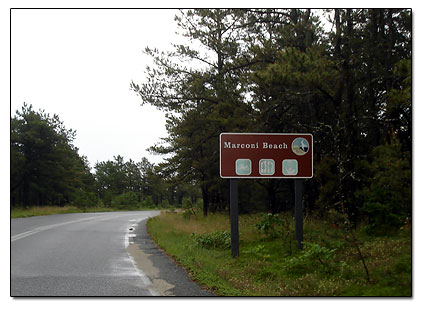 We quickly turned around and went back out, turning down the road that said Marconi Station.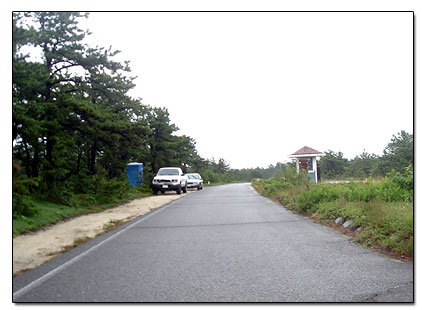 We followed it and passed the National Seashore Headquarters, and then wound up at a spot called Marconi Station.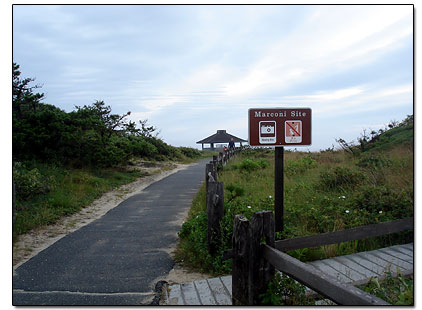 It had restrooms, scenic views for pictures and parking, and it is free. We parked and took a stroll and saw observation decks and a path to a beach.
So this is good. If you don't want to go to a beach, but just get some scenic views, here ya go. As it turns out this is where Marconi sent the first transatlantic telegraph. Wow.
More Pictures of Marconi Station and Beach
- A picture as I approch the station... view toward station
- A marker on the path commemorating the telegraph... marker
- Marconi's history... History of Marconi - Large 365k
- Marconi's Wireless station blueprint... 865k
- Glass enclosed display of Marconi's station... Marconis station
- Marconi station display of wiring detail... wiring detail
- Part of the Marconi station found... bricks
- A view looking down toward the beach... sliding cliffs
- A picture looking north at the beach... view north
- Soon the walkway will disappear over the cliff... erosion
- Beach wreckage that washed into the dunes... beach wreckage
- A picture of the beach looking south... Marconi station south
- A sign that warns of Danger, sliding cliffs... danger sliding cliffs
- A huge informational sign called What is Cape Cod Made Of... huge 625k
- A bicycle and walking path near Marconi station... bike path
Massachusetts Motels and Hotels
Find a motel in Cape Cod here:
Popular Massachusetts Hotels
Next stop... Mayo Beach
---
Cooltan - Tan Through Swimsuits
- Here's a new product on the market that you can't buy in a store. Now you can get a tan through your swimwear! Cooltan Tan Through Swimwear works like a medium level sunscreen. Look great and eliminate tan lines!
Popular US Hotels - If you need a place to stay on the East Coast while at a beach, see a list of all the popular hotels, motels, inns and suites by state.