Old Orchard Beach, Maine
America's East Coast Beaches

After leaving Hampton Beach we jumped on I95 hoping to make some time, but then saw a toll plaza coming up and exited back to 1A.
The next town was called Ogunquit and it is very quaint and popular. The hubby said, "Let's move here."
There are also quite a few motels here along this strip of 1A and we saw a sign that said Main Beach in Ogunquit downtown. We also passed a sign earlier pointing to York Beach. We also passed Beach Acres Campground, and Riverside Park Campgrounds. Heading into Kennebunk, we passed the airport.
So where are we heading? Old Orchard Beach is our goal. To take some pictures and enjoy the beach. I have been reading about Old Orchard Beach for a long time and I am excited to finally get to see it.
We just passed the Hemlock Grove Campground, and Red Apple Campground. Gas is 20 cents cheaper than Connecticut.
Biddeford and Saco looks like pretty nice towns too, but we almost missed the Old Orchard Beach turn because there wasn't any signs. So we took Hwy 98 east and it took us right there. We passed the Hid n Pines Campground.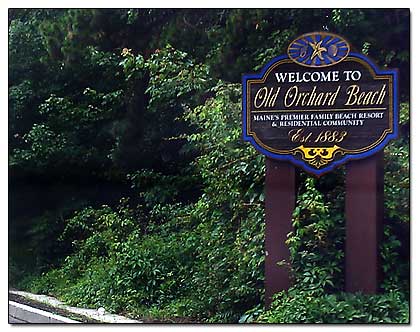 Oh my the first thing we saw at Old Orchard Beach was an amusement park on the waterfront, and a nice downtown area. People were walking the street and having a good time. It's 10"30 on a Monday, firecrackers are being shot off, and no one is sleeping. They even have a small roller coaster, this is much more than we anticipated indeed.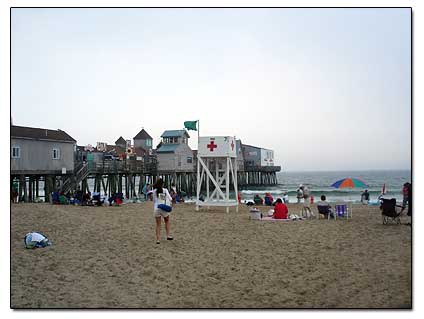 We pulled off the main street and parked to see what the beach looks like and found a parking meter. We took a walk to the carnival, the pier and took pictures of the beach.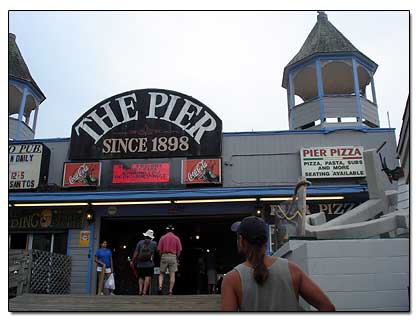 Anyway I took some pictures that probably will not turn out too good because of the cloudiness. We made a left at this intercession and saw all the motels on this strip, so all the action is to the north of the downtown area, small shops and lots of motels.
We followed this road and came into a small residential area with cottages for rent on the waterfront and houses for sale. Then all of a sudden we were in Scarborough Maine. So Scarborough Maine is just a hop, skip and jump from Old Orchard Beach.
More Pictures of Old Orchard Beach and Pier
- Picture of the Old Orhard Beach lighthouse and anchor on the pier... lighthouse and anchor
- View of Beach from the pier... Beach view
- A walk through the pier, each side has small kiosks... walk thru pier
- People browsing shops on the pier... pier shopping
- View of some of the snack shops like KC's Fried Dough... Snack Shops
- The All American Hot Dog and Coke... sign
- The pier observation deck... view thru binoculars
- Ice Cold Lemonade sold on the pier... Ice cold lemonade
- Pier Entertainment Complex... sign
- At the end of the pier is the Pier Patio Pub, home of the $5 lobster roll... Pier Patio Pub
- A view of Old Orchard Beach from the end of the pier... another beach view
- A picture looking down from the pier at the ocean water, surely it is ice cold... ocean water
- A picture of the waves at Old Orchard Beach before the storm... ocean waves
- When it started raining beach bathers just moved under the pier... beach bathers
- Some just stay where they were in the rain... beach rain
- View of the north side of the pier... northside of pier
- Old Orchard Beach and West Grand Avenue... Street sign and Harold's Store
- Old Orchard beach carousel... carousel - Old Orchard Beach arcade... arcade
- The beach was crowded even though it was cloudy and a storm was coming... crowded beach
- On the Main Street on Old Orchard Beach they have snack shops... snack shops on main street
- Picture of the parking meter... parking meter
- Old Orchard Beach Avenue view... street view of shops
- Old Orchard Beach Train Station... Train station
- Pirates Cove Adventure Minature Golf... Pirates Cove
- Old Orchard Beach Palace Playland... view of Playland and another view
Some Motels at Old Orchard Beach
- They are building the Grand Victorian Hotel next to the beach... Grand Victorian Hotel, view closeup of sign and the back
- The Americana Motel... Americana Motel
- The Viking Motel advertises kitchenettes and airconditioning... Viking Motel
- The Ocean House Motel advertises a pool, airconditioning, fridge and microwave... Ocean House Motel
- The Oceanic Inn at SOHO Square advertises ocean views, $59.00 at up, balcony, and kitchen... Oceanic Inn
- The Inn at SOHO Square Luxury Suites, says they have kitchens, fridge, micro, ac, cable, and they rent condos... The Inn at SOHO Square
- Best Value Inn and Suites says, The Summer is Here, Enjoy Our AC... Best Value Inn and Suites
- A picture of the Executive Motel, they are 75 yards to the beach, and have a heated pool... Executive Motel
- A summer rental... summer rental
- The Crest Oceanfront motel... The Crest Motel
- The Beau Rivage Motel has jacuzzis, heated pool, free wireless, whirlpool, sauna, and suites... Beau Rivage Motel
- Go to the Green Dolphin Motel for family fun, kitchenette, heated pool, large jacuzzis, queen beds... Green Dolphin Motel
- The Moby Dick Motel has kitchenettes, color tv, and a restaurant... Moby Dick Motel
- The Starlite Motor Inn has an outdoor pool... Starlite Motor Inn
- Atlantis On The Beach... Atlantis On The Beach and the Sea Drift Motel
- Crosswinds Motel and Cottages... Crosswinds and the Friendship Motor Inn
- A cute motel called the Island View Motel... Island View Motel
- The Oceanfront Motel... Oceanfront Motel and the Grand View
- The Royal Anchor Motel and the Grand Beach Inn
Saco Motels
Saco, Maine - Saco hotels
- Holiday Inn Express Hotel & Suites Saco, Maine 352 NORTH STREET Saco, ME
- Rodeway Inn Saco 21 Ocean Park Road Saco, ME
---
Cooltan - Tan Through Swimsuits
- Here's a new product on the market that you can't buy in a store. Now you can get a tan through your swimwear! Cooltan Tan Through Swimwear works like a medium level sunscreen. Look great and eliminate tan lines!
Popular US Hotels - If you need a place to stay on the East Coast while at a beach, see a list of all the popular hotels, motels, inns and suites by state.