Corporation Beach
Cape Cod Beaches
This is a picture taken at Dennis Corporation Beach.
There are lots of beaches on Cape Cod.
And sometimes we just go beach hopping to as many as we can.
We always have a great time, but we usually go after the season has closed, but there was still alot of traffic, like bumper to bumper all the way there.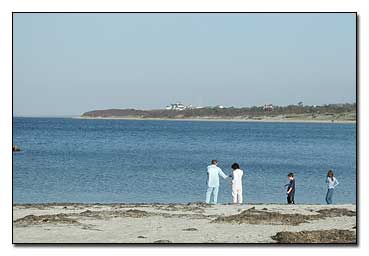 We just took our time though, and enjoyed the scenic and historical towns, and just being there.
Someday we're going to go all the way to Provincetown at the tip. There is a pirate ship there called the Whydah.
Wouldn't it be nice to rent a cottage in Cape Cod, or stay at a Bed and Breakfast? There are lots of places for lodging, and even some nice hotels. But we don't ever stay in Cape Cod that long, usually just day trips. Take our advice though if you drive to Cape Cod, go early in the morning.
Cape Cod is well known as a popular summer resort and has excellent facilities for swimming, fishing, and boating. Fishing is an important industry, especially in Provincetown, which has one of the largest and safest harbors on the Atlantic seaboard.
Cranberries are the chief crop. Other communities on Cape Cod are Barnstable, Yarmouth, Orleans, Falmouth, Bourne, and Hyannis. The cape has a number of lighthouses, including Chatham Light at Chatham, and Cape Cod Light at Truro.
Massachusetts Motels and Hotels
Find a motel in Cape Cod here:
Popular MA Hotels
---
Cooltan - Tan Through Swimsuits
- Here's a new product on the market that you can't buy in a store. Now you can get a tan through your swimwear! Cooltan Tan Through Swimwear works like a medium level sunscreen. Look great and eliminate tan lines!
Popular US Hotels - If you need a place to stay on the East Coast while at a beach, see a list of all the popular hotels, motels, inns and suites by state.