Cahoon Hollow Beach
Wellfleet Beaches Cape Cod
This is a picture taken at one of Wellfleet's beaches called Cahoon Hollow.
It is located on the National Seashore, yet it is maintained by Wellfleet.
We left Nickerson Campground early today to go find some beaches before heading into Provincetown.
First we stopped at the National Seashore visitors center, and they gave us a map of all the beaches.
The first beach we found is called Cahoon Hollow.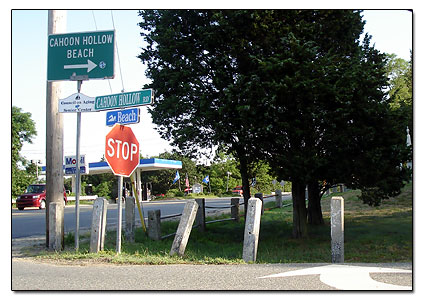 This next picture was driving toward the entrance of Cahoon Hollow beach and it is early in the morning.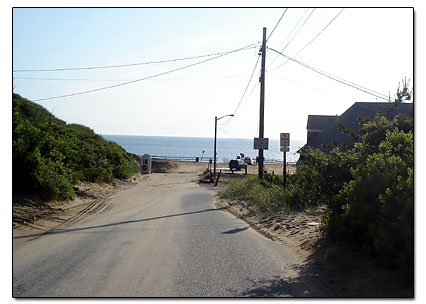 Really the only attraction at Cahoon Hollow is a Restaurant there called the Beachcomber.
It looks like it would be a real popular spot at night to hang out, because this area is rather secluded.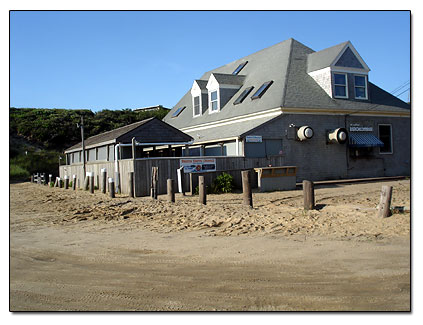 The interesting thing is that the beach is at the bottom of a dropoff or sandslide. We did not see any specific paths to get down to the beach, and it was at least a 75 foot drop. Then how would bathers get back up?
See pictures below to view what the beach looks like.
Also see another Wellfleet Beach called Newcomb Beach and Mayo Beach
More Pictures of Cahoon Hollow Beach
- A picture of the parking permit sign that says $15.00 to get in... parking fee
- Another picture of the Beachcomber Restaurant... Beachcomber Restaurant
- Surfers stand at the bottom of the cliff wondering where the surf is at... surfers on beach
- How beachgoers get to the bottom I do not know... steep dunes
- Beware of sliding dunes sign... sliding dunes sign
- A view of Cahoon Hollow beach looking north... looking north
- A view of Cahoon Hollow Beach looking south... looking south
- Do Not walk or climb on the dunes... sign
- Another picture of the surfers wondering where the surf is... surfers
Massachusetts Motels and Hotels
Find a motel in Cape Cod here:
Popular Massachusetts Hotels
Next stop... Newcomb Hollow Beach
---
Cooltan - Tan Through Swimsuits
- Here's a new product on the market that you can't buy in a store. Now you can get a tan through your swimwear! Cooltan Tan Through Swimwear works like a medium level sunscreen. Look great and eliminate tan lines!
Popular US Hotels - If you need a place to stay on the East Coast while at a beach, see a list of all the popular hotels, motels, inns and suites by state.