Island Beach State Park
Tom's River South New Jersey

We took Hwy 37 out of Tom's River, and crossed to Pebbles Island and then into Seaside Park.
Making a right turn, we followed highway 35 all the way to the Island Beach State Park.
They charged us $5.00 to get in, and said there was no camping there when we asked.
We drove for about 3 miles on a straight stretch of nicely paved road and saw a sign for a Beach Plum Festival on Sept. 10th.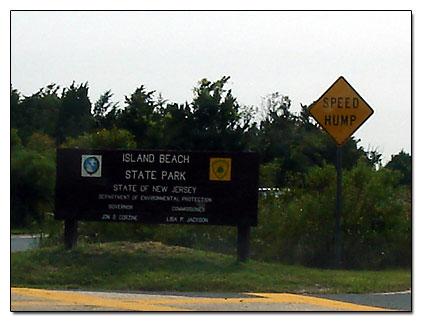 We kept driving and came to a beach entrance on the left, the sign said it was the first beach. We wondered how many beaches there were. We felt like we were at the National Seashore in Cape Cod. Lots and lots of sand and sand dunes.
The sand was deep and soft, and a light tan color. The ocean waves were not high, and there were mostly large clam shells on the shoreline, and some little starfish.
There were not too many people in the water, of course they had signs up that there was no swimming allowed without lifeguards.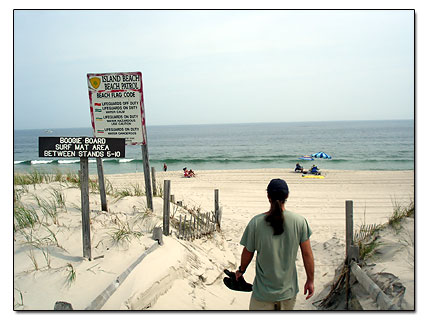 I took a picture of the snack bar pavillion and bathhouse and we parked in the small north parking lot. We got out and took the path to the beach. The beach was really nice and it reminded me of Scarborough beach in RI, but not as wide. It seemed most sunbathers were gathered in the snack bar area.
Then the hubby made the comment that the sand was musical. He said when you slide your feet on it, it squeaks. I tried it out and he was right. We have never ran into this type of sand anywhere else.
We went back to the car, and walked over to the bathouse. I took a picture of the outside shower and a sign with some information on it about the New Jersey Heritage Trail. There was also a sign explaining how they use solar panels to heat the water for the showers.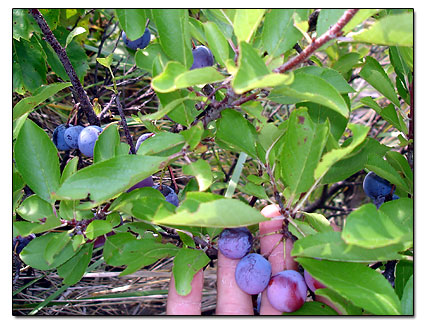 Vlad spotted some little cherry looking fruits on the bushes and started eating them, I thought he was crazy, but I ate some too. I was wondering how sick we were going to get, but then thought that the state park wouldn't have them growing here if they were poisonous.
We didn't realize till after we started to leave that those were the Beach Plums. Even along the road people were stopping to pick some. They tasted like plums, but were the size of cherries. Very interesting.
More Pictures of Island Beach State Park
- The entrance to Island Beach State Park... Island beach entrance
- No Lifeguards on Duty... entrance fee
- The permits and rules at the entrance... permits and rules
- They gave us the Island Beach newspaper... Island Beach newspaper
- Inside the newspaper was a map of the state park... map of state park 161k
- Island beach visitor center... visitor center
- The long stretch of road in the state park... state park road
- Island Beach Bathing Beach number 1 entrance... Bathing Beach #1
- A view of the parking area at Island Beach State Park... parking area
- A beach rules sign... beach rules

- See a map of where Island Beach State Park is located... Island Beach map
---
Cooltan - Tan Through Swimsuits
- Here's a new product on the market that you can't buy in a store. Now you can get a tan through your swimwear! Cooltan Tan Through Swimwear works like a medium level sunscreen. Look great and eliminate tan lines!
Popular US Hotels - If you need a place to stay on the East Coast while at a beach, see a list of all the popular hotels, motels, inns and suites by state.