Bonita Springs Beach in Florida
We wanted to see what was south of Fort Myers Beach and we followed the road all the way to Barefoot Beach.
On the way back we stopped to see what Bonita Springs Beach looked like.
We were surprised to find out that Bonita Springs Beach was mostly crushed shells instead of sand.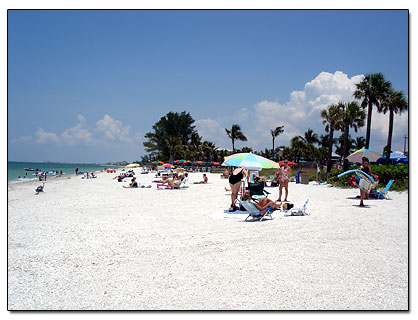 Since they were charging to park there, we decided to find another beach access a little north from Bonita Springs, yet still south of Fort Myers Beach.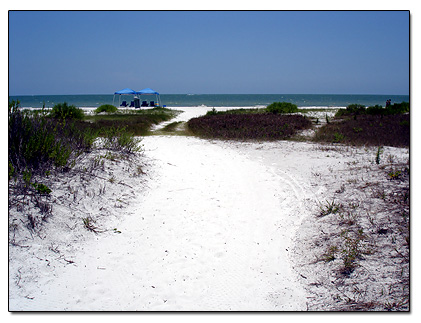 The second place we stopped had more sand, and less shells, but it was still hot. The water was not refreshing, it was too warm.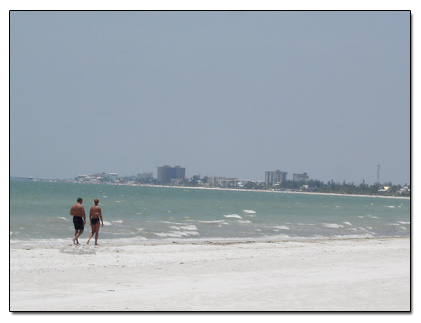 We stayed here for several hours and decided we had enough heat, and headed back to Ft Meyers beach.
More Pictures of Bonita Springs Area
- Bonita Beach had a warning sign about stepping on stingrays... warning sign
- The sand was very fine, and white to light grey... here's a sand castle... sand castle
- Bonita Springs Beach's parking system was a Park and Pay Here... Park and Pay here
- A picture of the Fish House Market... Fish House Market
- Next door to the market is the Fish House Restaurant... Fish House Restaurant
- We ordered the fisherman's platter... fishermans platter
- A view inside this cute little roadside restaurant... view inside
- The restaurant even has a patio outside, it would be nice at night... outside patio
- Lover's Key State Park entrance... entrance
- On the way back to Ft Myers beach we ran into Lover's Key State Park... Lover's Key State Park
- The Florida State Parks set up Pay stations in their parks... pay station
- I just had to get a picture of one of the orange floral trees... no clue what they are... orange flower tree
Motel and Hotels in Bonita Springs
Bonita Springs, Florida - Bonita Springs hotels
- Trianon Bonita Bay 3401 Bay Commons Drive
- Comfort Inn Bonita Springs 9800 Bonita Beach Rd.
- Baymont Inn & Suites Naples/Bonita Springs 27991 Oakland Drive
- Hyatt Regency Coconut Point 5001 Coconut Rd. Bonita Springs, FL
- Staybridge Suites Bonita Spgs-Bonita Bay Plaza, 8900 Brighton Lane
- Holiday Inn Express Hotel & Suites Bonita Springs, Fl 27891 Crown Lake Blvd
- Hyatt Coconut Plantation 11800 Coconut Plantation Drive
Bonita Beach, Florida - Florida hotels
- Bonita Resort Club (Vri) 26101 Hickory Blvd. Bonita Beach, FL

---
Cooltan - Tan Through Swimsuits
- Here's a new product on the market that you can't buy in a store. Now you can get a tan through your swimwear! Cooltan Tan Through Swimwear works like a medium level sunscreen. Look great and eliminate tan lines!
Popular US Hotels - If you need a place to stay on the East Coast while at a beach, see a list of all the popular hotels, motels, inns and suites by state.