Ft. Myers Beach
America's East Coast Beaches
featuring the Florida Beaches
We didn't stay at Ft Myers Beach very long, it was too hot and we were hungry.
Ft Myers Beach looked like a fun place to hang out, with lots of little shops, and places to eat.
We kept driving and then came to Bonita Springs Beach.
We ate lunch in Bonita Springs at a cute place called the Fish Market, and then turned around and headed back to Fort Myers beach.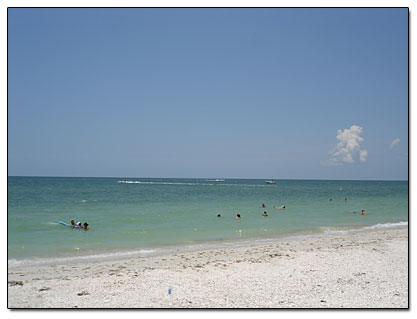 My it was hot though, and parking was to be paid for, so we didn't stay long at Ft. Myers beach.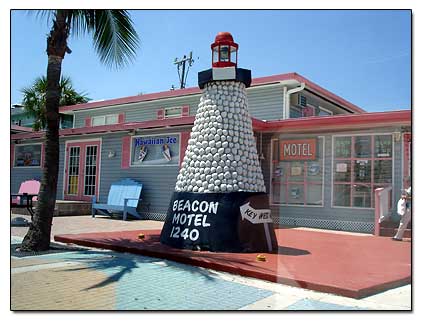 Along with little shops, there were cute brightly painted and decorated motels all along the strip, such as the Beacon Motel.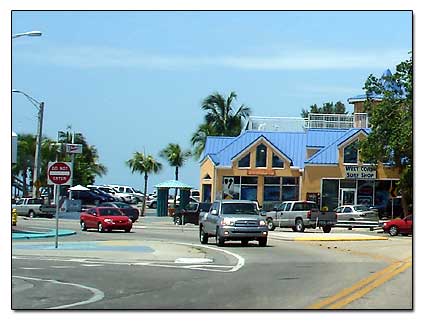 This is a picture taken as we were driving into Ft Myers beach. The beach entrance is straight ahead. Many little shops are to the right. It's the middle of the day and the area is not too busy. More than likely because of the heat.
There were many cottages on this strip for rent, and we definitely felt like we were here in the off season, and that most of the locals drove north for the summer.
Next stop Bonita Springs Beach
More Pictures of Ft Myers and the Beach
- Another view of from the highway driving into Ft Myers beach... Ft Myers beach view
- A larger picture of the entrance to the Fort Myers beach... beach access entrance
- One side of a motel was painted as a murial... Motel murial
- A picture of the strip looking south, notice no one is out walking around... Hot Ft Myers
- The Island Resort with a murial and waterfalls at their entrance, notice the gazebo on the roof... motel and restaurant
- A view of the Lai Hai Island Resort... Lai Hai Island Resort
- Our first sighting of coconut trees... coconut trees
- A view of the street past the tourist hotspot, lined with palm trees... residential neighborhood
Highlights of Fort Myers
- Exit 158 to North Fort Myers and Cape Coral... Exit 158
- Our first view entering Fort Myers... Welcome to Fort Myers
- McGregor Boulevard is the most popular street... McGregor Boulevard
- A favorite stop was for fresh squeezed juice at the Sun Harvest Juicing Factory... Sun Harvest
- We also stopped at the world's largest liquor store... Total Wine
- We went to a huge flea market where they were serving fried alligator!... fried alligator
- We we went to the Ft Myers Harbor and ate dinner at a place called Joe's Crab Shack... Joe's Crab Shack ...see inside Joes
- See what we ordered... fish and chips... fisherman's platter... view of the harbor at sunset
- Relief from the heat came shortly after we arrived in the form of Tropical Storm Alberto... Tropical Storm Alberto
Motels at Ft Myers Beach
Fort Myers Beach, Florida - Find Fort Myers Beach hotels
---
Cooltan - Tan Through Swimsuits
- Here's a new product on the market that you can't buy in a store. Now you can get a tan through your swimwear! Cooltan Tan Through Swimwear works like a medium level sunscreen. Look great and eliminate tan lines!
Popular US Hotels - If you need a place to stay on the East Coast while at a beach, see a list of all the popular hotels, motels, inns and suites by state.