South Cape Beach State Park
Cape Cod, MA Pictures
South Cape Beach is on the southern part of Cape Cod in southeastern Massachusetts.
South Cape Beach, is located in South Mashpee.
The daily charge for parking is $7.00.
Resident Season Pass is $35.00, nonresident is $45.00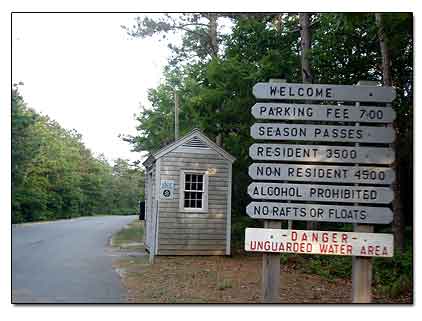 An over-the-dune bridge, a fairly big parking area and bathrooms are available.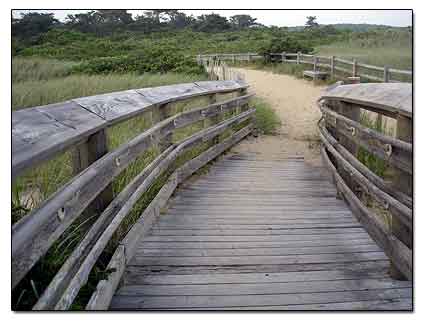 This yellow sand beach is not very wide, with a fast current and steep dropoff making it excellent for fishing, but not so for swimming. But look at the picture of a man swimming.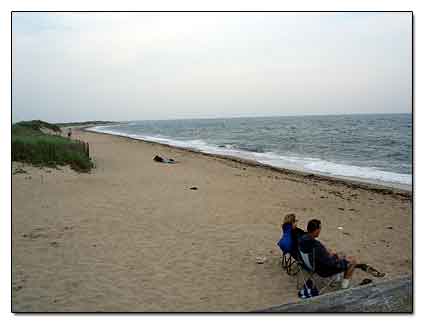 On the day we were here there weren't any lifeguard stands. But there is a observation deck overlooking the beach. And it seems you can walk the stretch of beach and wind up at Mashpee Town Beach. See a picture of Mashpee Town Beach or looking south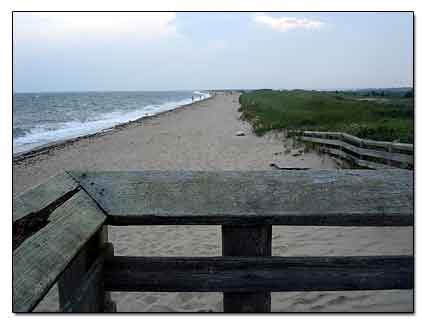 There are also some walking trails present in the area.
South Cape Beach State Park
Great Oak Rd., Mashpee
508 457-0495

Driving Directions
From the Mashpee Rotary follow Hwy 28 south (Falmouth Road). There isn't a sign for the park turn coming from the north so you have to look for Great Neck Road. Follow Great Neck Road and it turns into Great Oak Road. Follow Great Oak Road and you will see signs. If you go straight you will wind up at Mashpee Town Beach. Resident Sticker Required.
Between Columbus Day and Patriots Day proceed to the Mashpee Town Beach parking lot at the end of the entrance road. No sticker is required in winter to park at the town lot
Massachusetts Motels and Hotels
Find a motel in Cape Cod here:
Popular Massachusetts Hotels
---
Cooltan - Tan Through Swimsuits
- Here's a new product on the market that you can't buy in a store. Now you can get a tan through your swimwear! Cooltan Tan Through Swimwear works like a medium level sunscreen. Look great and eliminate tan lines!
Popular US Hotels - If you need a place to stay on the East Coast while at a beach, see a list of all the popular hotels, motels, inns and suites by state.