Carolina Beach State Park
Campground Camping
We went to the Carolina Beach State Park Campground and checked in for 2 nights for 15.00 a night, what a deal.
They have a marina, but there is no swimming because of dropoffs and strong current.
To swim there are beaches down the road the ranger said, lots of beaches.
The campground is really nice, and it is quiet and some of the spots offer a certain amount of privacy.
Since Carolina Beach is on an island, all the ground we are walking on here is sand.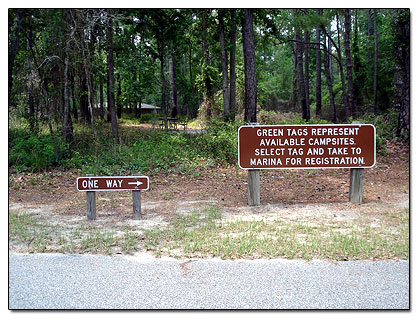 The Carolina Beach State Park Campground looks like it was once in a forest fire. Mostly pine trees, they are scorched to about 4 to 5 ft off the ground. As I was sitting at our picnic table, a doe and bambi walked within 50 ft of me, they were not nervous at all. There were also chameleons skittering around, and a hawk flying overhead.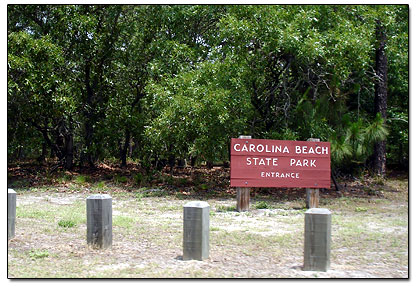 It thunderstormed most of the night, and we had to put our plastic tablecloth over the tent. The next morning we found that our car battery had died, probably from everything we were charging, like our cellphones, making coffee etc. So now we know we need to start the car at least to make coffee.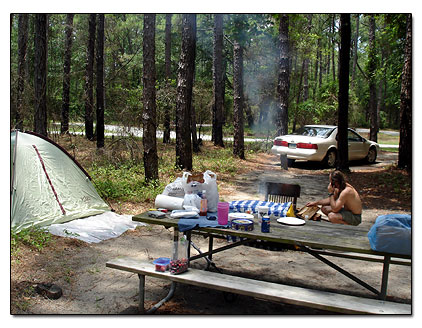 When we left to explore Carolina Beach, we found that there was parking meter parking at the beaches. This was the first we had seen of this. Carolina Beach looked really nice with it's little shops and stores.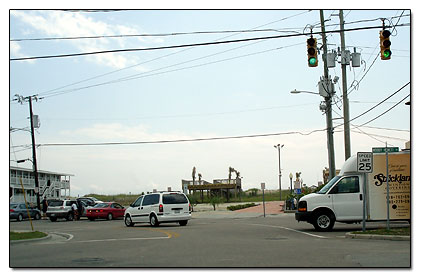 The drive down the main street reminded us of Hwy. 1 and Boston Post Road in Rhode Island except for the palm trees for sale and the Magnolia trees which are easy to spot because of their dark green leaves and huge white blossoms.
The major grocery store chain at Carolina Beach is the "Food Lion." From Hwy. 40 to Carolina Beach it is 15 miles, and it is also a hurricane evacuation route. We didn't see any Dunkin Donuts here, but only a Krispy Kreme shop, and several coffee cafes. Gas was $2.79 a gallon which is pretty cheap right now compared to New England's $3.24. Cigarettes were $26.08 a carton plus tax.
We decided to go and try to find Wrightsville Beach which was north of us.
More Pictures of Carolina Beach
- Building a campfire and calling our friends in Ft. Myers... campfire
- The view where the deer walked by... Carolina Park view
- A sign in front of the restrooms with the park rules... park rules... large
- Some of the campsites have an enclosed area with rocks, our tent would not work on rocks... campsite
- We liked the looks of campsite 8 too... campsite 8
- Carolina Beach State Park Visitors Center and Ranger Station... visitor center
- A roadside "Palm Trees for Sale"... Palm Trees for Sale
- A view towards Carolina Beach, Laney Real Estate... view towards beach
- A couple motels by the beach, like the Cabana Suites... Cabana Suites motel
- Picture of the Courtyard ny Marriott on Cape Fear Boulevard... Courtyard Mariott
- A sign in Wilmington that announces seat belt usage statistics... seat belt sign
Carolina Beach Motels
Carolina Beach, North Carolina - Carolina Beach hotels
- Courtyard By Marriott Carolina Beach 100 Charlotte Avenue Carolina Beach, NC
- Microtel Carolina Beach 907 North Lake Park Blvd Carolina Beach, NC
Carolina Beach map... Carolina Beach Map
Third Stop - Wrightsville Beach

---
Cooltan - Tan Through Swimsuits
- Here's a new product on the market that you can't buy in a store. Now you can get a tan through your swimwear! Cooltan Tan Through Swimwear works like a medium level sunscreen. Look great and eliminate tan lines!
Popular US Hotels - If you need a place to stay on the East Coast while at a beach, see a list of all the popular hotels, motels, inns and suites by state.