Wonderland View
Revere Beach Postcard
In 1906, Revere's greatest attraction ever, Wonderland Park, opened. Situated approximately where the Wonderland Dog Track is today, it was one of the nation's earliest and most spectacular fantasy amusement parks. Also see this picture of Wonderland Park.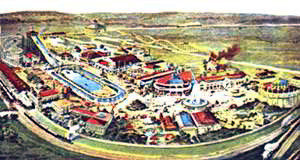 "Wonderland was built on 25.9 acres of land known today as the Wonderland Dog Track. Because of the success of Revere Beach Boulevard, three men worked together to create Wonderland. John J Higgins, a commercial real estate broker and Floyd C. Thompson, a visionary with interest in amusements parks, combined their talents with those of another important figure Major Thomas D. Barroll."
---
Cool Links:
Grocery shop Peapod online
in Revere Massachusetts and get $10 in FREE groceries
Tan Through Swimsuits
Now you can get a tan through your swimwear! Cooltan Tan Through Swimwear works like a medium level sunscreen. Look great and eliminate tan lines!
Mass hotels
- Find a place to stay in Revere Beach and nearby.
Old Coney Island Pictures
- See some picture postcards of the amusement park that was at Coney Island.