Scarborough Beach RI Pictures
America's East Coast Beaches
After leaving Naragansett Beach we headed south to Scarborough Beach and was amazed at how packed it was for a weekday!
Scarborough Beach is a RI state park, today it is hot, and I'll bet both parking lots are full.
But I noticed they didn't even start filling up the back parking lot yet.
When I looked at the water, which there was some pretty nice waves, the swimmers gave the impression that the water was warm.
So I went down and stuck my big toe in and it was like ice water! They say the ocean water doesn't really get warm until August.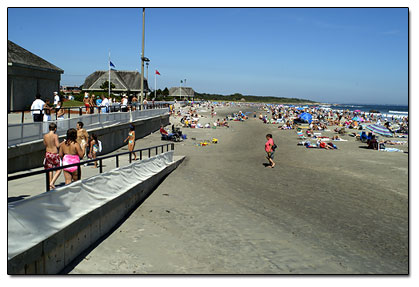 Scarborough Beach is a very popular beach, and it can get pretty crowded during the summer.
Surfers like it here too because the waves get high.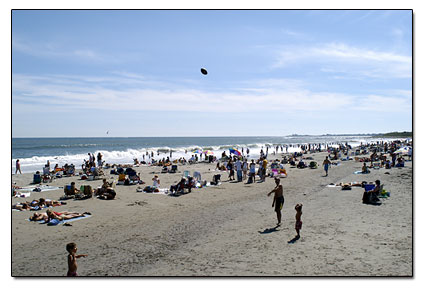 Scarborough Beach has a snack bar that is located at the beach pavilion, along with some outside showers, changing rooms, and restrooms.
They have a great snack bar, frozen lemonade stand, but it would be best to bring a cooler full of food, because there is not a lot of places to eat. The only thing we saw was a Certa Pizza Shop, which probably does a brisk business in the summer.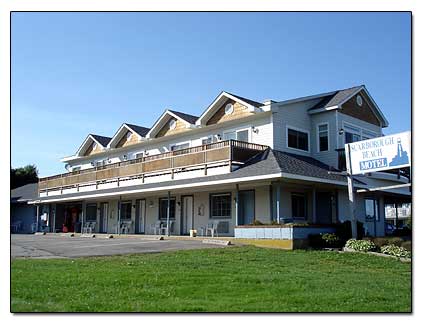 The price for a non-resident was $12.00 which is still pretty good. But the season pass for non-residents is 60 bucks. The lifeguards are there till 6 PM. At the south end of the Scarborough beach is facilities for RV's.
If you come to Scarborough Beach and it is too crowded, then you can also head north on 1A and you'll run into Narragansett Beach.
There are several motels nearby like the Scarborough Beach motel (401)783-2063 and the Anchor Motel (401)792-8550 They are located right across from the beach and look like some really nice places to stay.
Did you know there is also a Scarborough Beach in Maine? We had to go check it out!
Driving Directions
If you are traveling I-95 in
Rhode Island
, Exit 3a from I-95, which is the
University of Rhode Island
,
and Newport Bridge
exit,
Hwy. 138
,
follow 138 about 11 miles (you'll be going through Kingston) keep following 138 and you'll come to a large intersection with a Mobil gas station on your right, this is Hwy. 1. Make a right at the Hwy. 1 intersection and drive south about 5 miles then start watching for signs. If coming from west RI route 1, view what's at the
Exits
More Pictures of Scarborough Beach Area
- Location of the Scarborough Anchor Motel... Anchor Motel
- A front view of the Anchor Motel next to the Black Rock Bar and Grill... Anchor Motel front view
- Another picture of the Scarborough Beach Motel... Scarboro Beach Motel
- Down further from Scarborough Beach is a popular restaurant called Spain's... Spain's Restaurant
- Here's a better picture of the location of Spain's... Spain Restaurant location
- Here's another clam shack around the corner we stop to eat at called Iggy's... Iggy's Clam Shack
- Aunt Carrie's Restaurant looks like a popular spot too... Aunt Carrie's Restaurant
- Another popular restaurant south of Scarborough beach called Charlie'O's... Charlieos
Next stop Fall River, Mass
---
Cooltan - Tan Through Swimsuits
- Here's a new product on the market that you can't buy in a store. Now you can get a tan through your swimwear! Cooltan Tan Through Swimwear works like a medium level sunscreen. Look great and eliminate tan lines!
Popular US Hotels - If you need a place to stay on the East Coast while at a beach, see a list of all the popular hotels, motels, inns and suites by state.