Narragansett Beach Pictures
America's East Coast Beaches
On the road trip to Cape Cod we stopped at Narragansett Beach and Scarborough Beach to take pictures.
I like the drive to Narragansett via Hwy 138.
It's very scenic, and the University of Rhode Island is located here.
Its now 7:15 so it took about 2 hours to drive here from Shelton CT
When you get at the large intersection of Hwy 1 and 138, there is a Mobile Station where we stop to get gas.
Then you head south on Hwy 1 to get to Narragansett. Then you'll pass an exit for Wakefield and start seeing signs for Narragansett. Exit the Narragansett exit and at the bottom of the exit make a left.
Then follow around a circle and go straight, this will take you right into a dead end with a light and the Pier Marketplace. You must turn left at the light, then follow it around to get to the beach.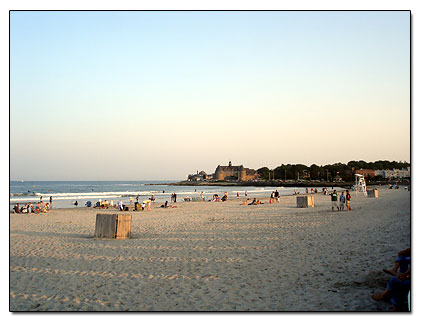 The beach house should be to the left of you and Narragansett parking right in front of you. Make a left and turn into the parking area. Today it is still pretty full even though it's 7:20 pm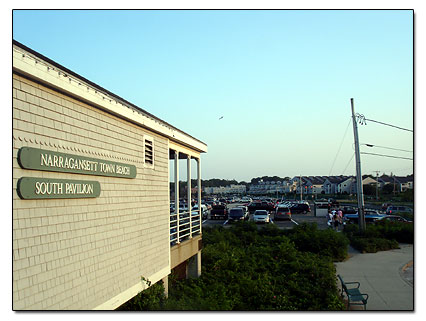 Narragansett is a town beach, and they have strict parking rules. There are beach houses and changing rooms, and a real nice snack bar at the beach. Lifeguards are on duty from 9 AM till 5 PM.
Even though Narragansett beach is in a bay, it still has high surf and is very popular with surfers from nearby Surf clubs. You will see them out there early in the morning. They are a lot of fun to watch and the clubs even have lessons at their surf club.
The fineness of the sand makes it pack tight, and if you walk along the low ocean tide line you won't even be able to see your footprints.
Why should you take a beach vacation at Narragansett? From our experience of visiting there, the off season is the best time to go. During the summer the place is overpacked, and we feel you would have a more relaxing time during the off season, than during the summer. It's not even cold here yet, even in November, and all the leaves are colorful. We really feel you would enjoy it.
See some old beach pictures of Narragansett.
More Pictures of Narragansett Beach
- View from the parking lot toward the Narragansett Beach bathhouse... view toward bathhouse
- View looking north from the gate... Narragansett north view
- Picture taken from the bathhouse toward the towers... View from bathouse
- Picture of the type of surf they get a Narragansett... ocean waves
- View of the front of the south pavillion... front of pavillion
- The Narragansett town seal on the bathhouse... Narragansett Town Seal
- Picture of the Narragansett twin towers from the street... twin towers
- Picture of the Coast Guard House patio and one of the towers... Coast Guard House patio
- The Visitor Center is underneath the tower... Chamber of Commerce
- Picture of the popular Coast Guard House Restaurant... Coast Guard House
- There is a clam shack at the Narragansett pier... Clam Shack
- Sign about a Triathlon Event being held at Narragansett Beach... Triathlon sign
Driving Directions
If you are coming East from CT, Exit 3a from I-95, which is the University of Rhode Island, Newport Bridge exit, Hwy. 138 , follow 138 about 11 miles (you'll be going through Kingston) keep following 138 and you'll come to a large intersection with a Mobil gas station on your right, this is Hwy. 1.
Make a right at the Hwy. 1 intersection then start watching for signs. Once you exit Narragansett on the right, at the end of the exit, make a left. There will be a rotary, so go slow and follow the rotary around, taking the Hwy. 1 A.
Now follow this road till it dead ends. You will see the big condos in front of you and a grocery store is in that parking lot straight ahead called the Pier Market. But to get to the beach, turn left and follow it to the end.
---
Cooltan - Tan Through Swimsuits
- Here's a new product on the market that you can't buy in a store. Now you can get a tan through your swimwear! Cooltan Tan Through Swimwear works like a medium level sunscreen. Look great and eliminate tan lines!
Popular US Hotels - If you need a place to stay on the East Coast while at a beach, see a list of all the popular hotels, motels, inns and suites by state.