Fall River Beach, MA
I love taking the highway through Fall River because it is so scenic.
However when we stopped at the Battleship Visitor Information, we were told that there isn't a Fall River Beach.
There use to be one years ago, but it now has a pumping station there.
When we asked where everyone went to swim, they said everyone goes to South Shore Beach, or you can exit 1 before the Bourne Bridge which will take you into Buzzards Bay Center, and there is a beach there on the canal.
She said if you follow hwy 88 then you'll find all the beaches better than if you follow Interstate 25.
So that's what we did and wound up at Onset Beach. See the Onset Beach pictures.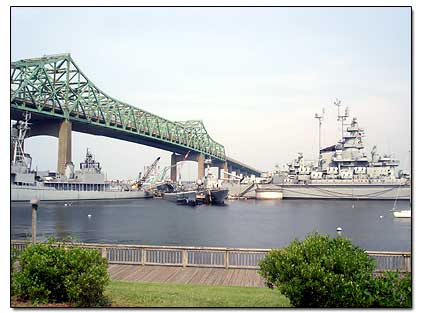 Below are some of the attractions in Fall River. We really liked the Battleship Cove even though we didn't take the tour. They have a carousel there too, and old one that was from Dartmouth. It is still operational and 50 cents a ride. What a deal.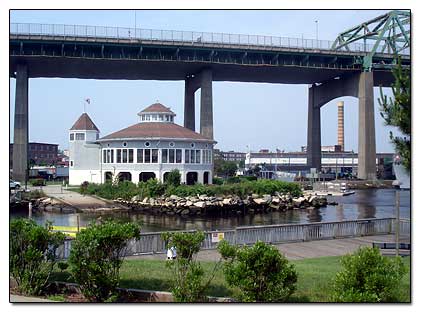 Our Fall River Mass Pictures
Another picture of the battleship with the marina in view... Battleship Cove Marina
View of the carousel with a temporary carnival that was setup nearby... Carousel and Carnival
A building on the marina that says Fall River Community Building... Marina Building
Fall River Community boat rentals, with carousel in distance... Boat Rentals
A popular waterfront restaurant at Battleship Cove, the sign says Regatta... Regatta
The entrance and parking area at Fall River Heritage State Park... State Park entrance
On display inside the visitor's center is old pictures of Fall River... old Fall River pictures
---
Cooltan - Tan Through Swimsuits
- Here's a new product on the market that you can't buy in a store. Now you can get a tan through your swimwear! Cooltan Tan Through Swimwear works like a medium level sunscreen. Look great and eliminate tan lines!
Popular US Hotels - If you need a place to stay on the East Coast while at a beach, see a list of all the popular hotels, motels, inns and suites by state.