Old Beach Pictures
See some slideshows of the old postcard pictures we have collected, for the sake of organization and usefulness to our visitors who are interested in the historical aspect of the beaches we have on the New England Beaches.
Old Beach Picture Photo Gallery

Coney Island NY
- Read a brief history of Coney Island amusements.

Coney Island, NY old pictures
- View thirty old postcards of the beach, Steeplechase, Luna Park and Dreamland. L A Thompson, the owner of the Electric Scenic Railway, built the world's first Roller Coaster on Coney Island in 1884.
Old Swimsuits 1900's Postcards
- Swimsuit fashions of the 1900's. Who's showing too much "leg?"
Old Revere Beach
- Pictures of Revere Beach during it's heyday, early 1900's
Old Narragansett RI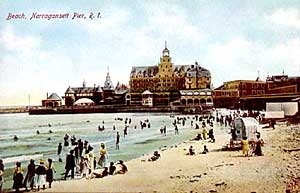 Here's an old postcard picture of Narragansett, RI. Between 1888 and 1920 Narragansett was well known as an elegant summer resort with a dozen more grand hotels and many large estates and cottages.
Most of the large hotels, all built of wood, were all destroyed by the fire. This postcard is dated1907.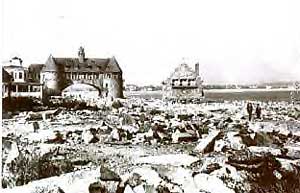 This bottom postcard shows what was left of Narragansett after the 1938 Hurricane.