Revere Beach, Mass
America's East Coast Beaches
We stayed at Nelson Beach till the sun set at the tide came in, then drove to Revere Beach.
We awoke in the morning and headed to Revere Beach.
It didn't look much different than the last time we were there, about five years ago.
We left Revere beach in the early afternoon to try to find Boston Harbor Lights State Park and it was not an easy drive through the small towns, and it was not interesting and not scenic.
When we found Boston Harbor Lights State Park we didn't realize the campgrounds were on Islands in Boston Harbor. It took us awhile to figure this out.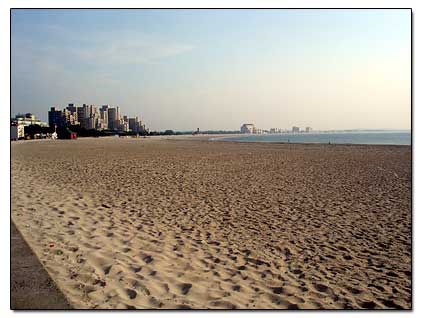 In the morning we stopped in South Revere to get a coffee at Dunkin, and their restrooms, they had to buzz you in after you ask to use it.
All the little restaurants along Revere Beach all had signs saying Customer use only. But the public beach restrooms were open and there are outdoor showers to rinse the sand off.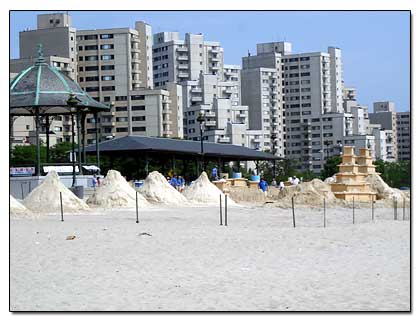 They did have a sand castle building contest going on though, and it was pretty interesting to watch them sculpt what turned out to be a roller coaster.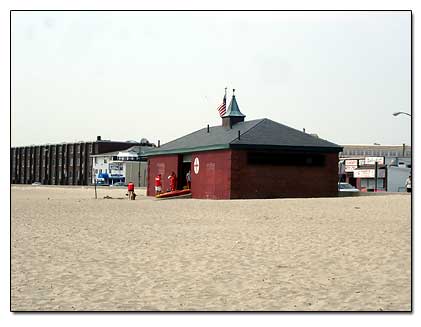 Even though most of the parking in front of Revere Beach is not metered, there are signs saying you can only park for 4 hours. Further south there is a strip of parking without signs like this.
We really had a great time at Revere Beach. Didn't realize how huge the beach was till we got there. We read up on information about it on the Revere Beach website, but we were expecting something totally different for some reason.
The amusement park called Wonderland is no longer there, it was replaced by some huge 4 or 5 story apartment buildings. What kind of waterfront entertainment is that? Anybody know what else there is to do in Revere? I don't know if we'll ever go back, it was like a 4 hr trip for us.
See some old postcards of old Revere Beach
Motels and Hotels at Revere Beach
Revere Beach , Mass - Revere Beach hotels
- Comfort Inn & Suites Logan International Airport 85 American Legion Hwy. Revere Beach, Mass
- Four Points By Sheraton Boston Logan International Airport 407 Squire Road Revere Beach, Mass
- Courtyard By Marriott Boston/Revere 100 Morris Street Revere Beach, Mass
- Rodeway Inn Revere 309 American Legion Highway Revere Beach, Mass
---
Cooltan - Tan Through Swimsuits
- Here's a new product on the market that you can't buy in a store. Now you can get a tan through your swimwear! Cooltan Tan Through Swimwear works like a medium level sunscreen. Look great and eliminate tan lines!
Popular US Hotels - If you need a place to stay on the East Coast while at a beach, see a list of all the popular hotels, motels, inns and suites by state.