Black Beach Sand
What is black sand?
In New England, black sand is tiny particles of iron. Black sand is a heavy sand because it is made up of minute particles of iron. Black sand is as heavy as gold. That's why when you are panning for gold and get down to the bottom of the pan, all that will be left is black sand and gold.
Where does Black Sand Come From?
Most New England beaches during the winter, with the tide action and currents, will strip the soft yellow quartz sand from the beach, revealing the black sand. The picture below is an example of this wave action. This picture was taken at Ocean Beach Park in New London, CT during the winter. The Block Island beaches have the most black sand we have ever seen on a beach.
Black Sand on a Beach Picture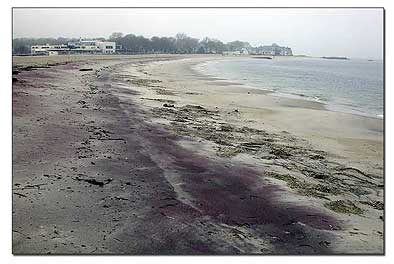 What's Black Sand made out of?

What if we were to drop a magnet on this black sand? When you pick the magnet up, all the little particles of iron black sand will be stuck to it. Do you remember a child's game called Woolly Willy? Where you take a magnet and pick up the metal shavings and give Woolly Willy a mustache, or hair, etc. It's the same stuff. They call them metal shavings but I'll bet you that someone discovered a use for black iron sand and made millions of dollars with an his idea. Maybe you have an idea for a science project here. Can you think of a use for black iron sand? You could make millions of dollars too. Check out a New England White Sand Beach
---
Cooltan - Tan Through Swimsuits
- Here's a new product on the market that you can't buy in a store. Now you can get a tan through your swimwear! Cooltan Tan Through Swimwear works like a medium level sunscreen. Look great and eliminate tan lines!
Popular US Hotels - If you need a place to stay on the East Coast while at a beach, see a list of all the popular hotels, motels, inns and suites by state.