White Beach Sand
White Sand Beach
The nicest beach sand we have ever located in New England is at Rocky Neck State Park. The beach sand there is white and fine. Is it natural? We would like to think that it is, but if it is, then it is a strange phenomenon, because there aren't any other beaches with white sand like this.
Look how far it reaches too, all the way over to where the beach houses, and summer beach cottages are. It must be natural! It is really deep too. In the water you can see the white sand goes out far making it a desirable family type beach. This picture was taken May 4th. No one is on the beach and the trees have still not bloomed. I imagine this beach was pretty packed this summer, regardless of the fact that this year our summer was on the cool, rainy side.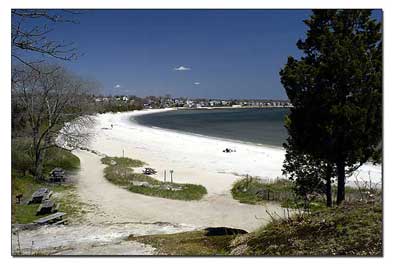 As you can see the beach sits in a partial cove. To the west of this picture they have built a jetty that goes out in the water. People fish from it. The jetty or rock barrier that they built keeps the sand from washing away via the longshore drift. Check out a Black Sand Beach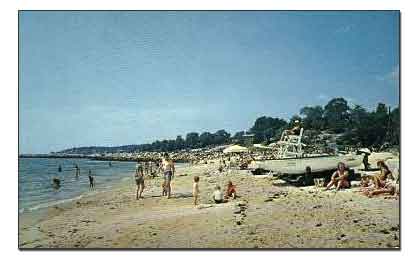 Update:
I recently ran across this postcard of
Rocky Neck Beach
, and guess what, the sand is different. It looks to be around the 1950's Check it out.
---
Cooltan - Tan Through Swimsuits
- Here's a new product on the market that you can't buy in a store. Now you can get a tan through your swimwear! Cooltan Tan Through Swimwear works like a medium level sunscreen. Look great and eliminate tan lines!
Popular US Hotels - If you need a place to stay on the East Coast while at a beach, see a list of all the popular hotels, motels, inns and suites by state.