Misquamicut Beach, RI
This is a picture of Misquamicut beach in Westerly, RI.
It is a huge popular beach spanning 7 miles which people like to take long walks, but it has a soft yellow sand.
It is not easy to walk on unless you stay on the wet sand.
There are all kinds of activities along the Misquamicut shoreline during the summer because, for tourists, this is a hotspot.
So there are plenty of places to shop, and eat along the beach, with lots of nice snack and ice cream shops.
Misquamicut beach is a favorite getaway spot for people from Connecticut.
There is plenty of parking spaces at the beach, which they charge per car (of course) during the summer.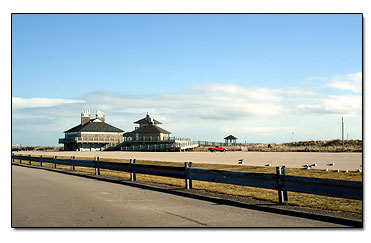 If you are a resident it's $6.00, a nonresident is $12.00 during the week, and a couple bucks more on the weekend.
Closed from sunset to 9 am. Lifeguards on duty from 9am to 6pm. No animals allowed from April 1st to Sept 20th.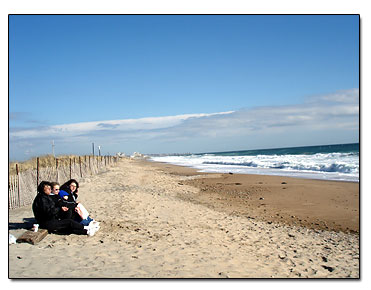 The way that Misquamicut is set up, reminds me of Roger Wheeler beach. Similar bathhouse and playground.
Other Things to Do at Misquamicut
Wizz Water Park - 328 Atlantic Ave Westerly, RI 02891 (401) 322-0520
Atlantic Beach Amusement Park - 337 Atlantic Ave (401) 322-9298

Driving Directions:
From CT, take Exit 92. At the end of the ramp make a right, (this is Hwy. 2) follow it a couple miles and you'll see a sign on your right that says, Westerly Beaches, Hwy. 78. Don't drive too fast or you'll miss it.
Make a right and get up on Hwy. 78, and follow it all the way till you come to a large intersection with a stoplight. Stay in the center lane and go through this stoplight, then follow this road all the way till you see a sign for Misquamicut, then make a left. If you go straight you'll wind up at Watch Hill. That's a good tourist spot too, but there is not much parking.

Disclaimer: As with everything in RI, you can almost bet this information and the rates will eventually change.

---
Rhode Island Grocery Shoppers Shop Online with RI Peapod Stop and Shop
No more tan lines! Get a tan through your clothes with Cooltan Tan-Through Shirts
Popular Rhode Island hotels - If you need a place to stay in Rhode Island be sure to check these popular hotels.
Rhode Island Attractions - There's more to Rhode Island than just the beaches!