Waterford CT Town Beach
Here's a nice view of Waterford town beach taken from Harkness State Park.
It was kind of a foggy morning and no one was at the beach.
I couldn't get much closer from here without doing alot of walking.
Waterford beach is a really nice beach and the sand is deep and soft, sort of a whiteish color.
They also have a nice picnic area. See also adjoining Ocean Beach Park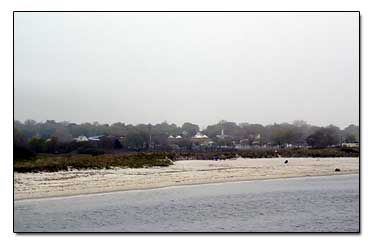 When you park in the Waterford parking lot, you have to walk to the beach following a path. So don't take alot of stuff that is heavy.
Update!
Gabrielle emailed us with the following information about Waterford Town Beach. Thanks Gabrielle!
"There are lifeguards during the summer, every day. Almost everyone swims in the water, and there is little more than the wake of the ferries lapping up on shore. Because Waterford beach is protected from the ocean by both Long Island and Fisher's Island, there is nowhere for waves to come from.
There is a raft out in deeper water for people (mostly kids) to swim to and jump off of. The beaches usually open in mid June.
Take care and keep beaching!"
Seasonal Pass: Here's a link to the Waterford Parks and Recreation webpage for information on Passes. www.waterfordct.org/discover-waterford Prices are listed right on the front page. Thanks to Bill for emailing us this information.
Disclaimer: As with everything in CT, you can almost bet this information and rates will eventually change.
---
Connecticut Peapod - Peapod online grocery shopping and delivery- get $10 in FREE groceries
Cooltan - Tan Through Swimsuits - Here's a product on the market that you can't buy in a store. Now you can get a tan through your swimwear! Cooltan Tan Through Swimwear works like a medium level sunscreen. Look great and eliminate tan lines!
Get Married in CT - A great resource for brides and grooms in Connecticut. Suggestions on locations, tips for the couple, and a wedding day timeline. How about a beach wedding?
Connecticut Hotels - If you need a place to stay in Connecticut, see a list of all the popular hotels, motels, inns and suites by city.