Silver Sands Beach
Milford Connecticut
Here's a beach picture of Silver Sands State Park located in Milford, CT.
It is a nice place to visit and spread your blanket for some sun and it's very scenic.
We love to view all the summer cottages too.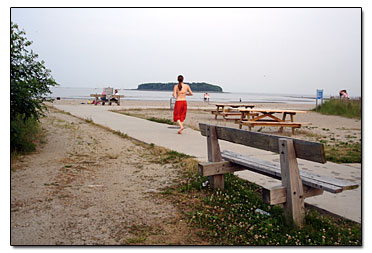 This picture below is a great view of Charles Island at high tide, and it can't be reached. You can walk to
Charles Island
at low tide, but don't stay on it too long or you'll be swimming back.
Charles Island is a bird sanctuary and is fenced off, No Trespassing, it says. It has a long history of use, and they even say it's haunted because nothing has ever prospered there. Read the history of Charles Island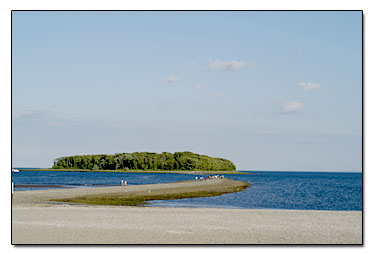 Silver Sands State Park beach is great for walking and beachcombing. It's loaded with shells. When we moved to Connecticut, this was not a state park yet. Now, they have added observation telescopes, and a boardwalk.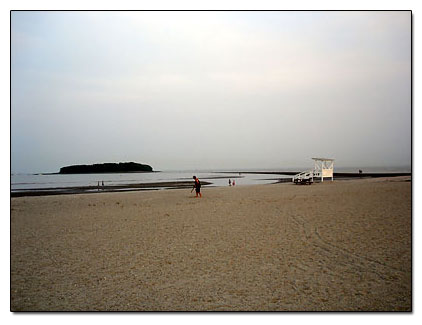 The Milford Town Beach is another beach not too far away. Everyone pretty much goes there to swim because the sand is nicer.
Also see Milford Gulf Beach

DIRECTIONS: Charles Island at Silver Sands Beach in Milford, CT Located off of Route 1 in Milford, watch for signs or exit Pumpkin Delight Rd.
Disclaimer: As with everything in CT, you can almost bet this information and rates will eventually change.
---
Connecticut Peapod - Peapod online grocery shopping and delivery- get $10 in FREE groceries
Cooltan - Tan Through Swimsuits - Here's a product on the market that you can't buy in a store. Now you can get a tan through your swimwear! Cooltan Tan Through Swimwear works like a medium level sunscreen. Look great and eliminate tan lines!
Get Married in CT - A great resource for brides and grooms in Connecticut. Suggestions on locations, tips for the couple, and a wedding day timeline. How about a beach wedding?
Connecticut Hotels - If you need a place to stay in Connecticut, see a list of all the popular hotels, motels, inns and suites by city.