Milford Town Beach, CT
MILFORD BEACHES:
Walnut Beach,
Gulf Beach
, Anchor or Crescent Beaches, Hawley Ave. Beach, and Middle Beach.
Here's a beach picture of Milford Town Beach located in Milford, CT.
It is a nice place to visit and spread your blanket for some sun and it's very scenic.
There are also summer cottages and apartments close by.
This picture is a great view of the new pier they built, and it's fun to stroll out on.
Charles Island is off to the right in the distance, so it's not very far from Silver Sands State Park.
People walk to Silver Sands from here and back again for their health.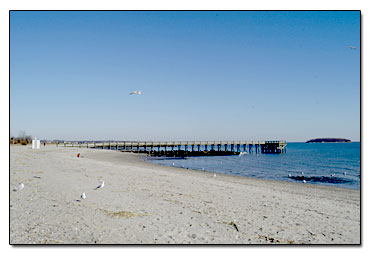 During the summer this beach gets packed. They made new parking areas to hold the traffic. But there are neighborhoods nearby, and the residents just walk to the beach.
There are signs posted that say, "No Animals allowed" but that just may be for the summer season. When I was there in February, there were several dogs on the beach. There are also signs posted to stay off of the dunes, and take out your trash with you.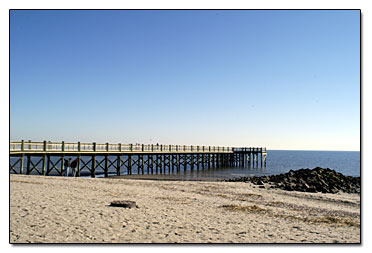 Seasonal Parking Passes: Resident parking stickers may be obtained from the Traffic Division while nonresidents may purchase a seasonal parking sticker for $150 from the police department.
Day Parking Passes: There is a parking charge of $5 per day for parking in the areas adjacent to Gulf Beach or Walnut Beach. There is no charge to walk or bike onto any of the beaches. Parking attendants issue parking vouchers at the lots (weather permitting) from 9 a.m. to 3 p.m. during season. There is no charge for walk-on entry.
DIRECTIONS: Located off of Route 1 in Milford CT
Disclaimer: As with everything in CT, you can almost bet this information and rates will eventually change.
---
Connecticut Peapod - Peapod online grocery shopping and delivery- get $10 in FREE groceries
Cooltan - Tan Through Swimsuits - Here's a product on the market that you can't buy in a store. Now you can get a tan through your swimwear! Cooltan Tan Through Swimwear works like a medium level sunscreen. Look great and eliminate tan lines!
Get Married in CT - A great resource for brides and grooms in Connecticut. Suggestions on locations, tips for the couple, and a wedding day timeline. How about a beach wedding?
Connecticut Hotels - If you need a place to stay in Connecticut, see a list of all the popular hotels, motels, inns and suites by city.