Rocky Neck State Park Beach
Niantic, CT
Rocky Neck beach was really a surprise when we went there.
They have lots of pure white sand, and lots of picnic tables and parking spaces.
Pack a picnic lunch because it's hard finding someplace to eat around there, even though they do have a snack bar.
The beach area is to the left and camping is to the right.
Rocky Neck has a a west beach and a east beach.
There is no kite flying because of the train and tracks nearby. Park closes at 8PM.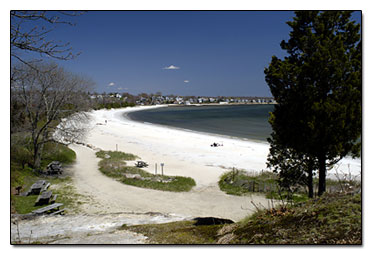 Rocky Neck has two beach areas, that are very scenic and well maintained. The west beach is the more popular of the two. We were shocked when we came here actually because the sand is awesome.
The beach has fine white sand. It seems like it is a natural occurrence too, because there is so much of it. This is a great family beach because the water is shallow for a long way out.
DIRECTIONS: Rocky Neck beach is at Exit 72 off of I 95. Follow the road all the way south, make a left at the light, then take your next right into the park.
Disclaimer: As with everything in CT, you can almost bet this information and rates will eventually change.
---
Connecticut Peapod - Peapod online grocery shopping and delivery- get $10 in FREE groceries
Cooltan - Tan Through Swimsuits - Here's a product on the market that you can't buy in a store. Now you can get a tan through your swimwear! Cooltan Tan Through Swimwear works like a medium level sunscreen. Look great and eliminate tan lines!
Get Married in CT - A great resource for brides and grooms in Connecticut. Suggestions on locations, tips for the couple, and a wedding day timeline. How about a beach wedding?
Connecticut Hotels - If you need a place to stay in Connecticut, see a list of all the popular hotels, motels, inns and suites by city.