Newport Easton's 1st Beach
This is a picture of Newport Easton's Beach, commonly referred to as "First Beach" and is a favorite spot for tourists.
They have events and tournaments of all kinds throughout the summer season.
The beach is long, narrow, and has deep soft light grey sand.
The low tide line is a great place to stroll.
At the east end of the beach towards the Atlantic Club, you'll cross the town line into neighboring Middletown.
The boardwalk has parking, public bathhouses, concessions stands and even a rotunda with a carousel.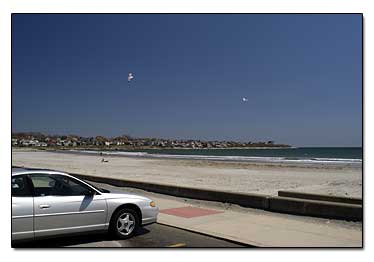 There was not much happening at Easton's Beach today, even though it is the end of April, and you would think that all kinds of people would be out strolling around.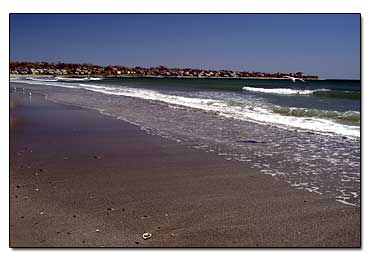 The waves were calmer today too. We saw people flying kites and beachcombing.
Newport's Easton's beach has a long history of use. As soon as the summer season starts they will start charging for parking, but for now it is free.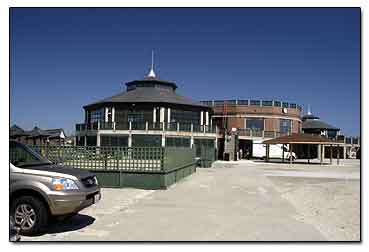 There are picnic tables and a playground, games for kids, a carousel and concession stands, a long sidewalk by the seawall, and several parking lots. The last time we were here there was a bride and groom with their wedding party, having their wedding photos taken. Very nice idea.
We've always enjoyed the excitement of being at the beach and all the good restaurants. We like to eat at Flo's Clam Shack, and The Atlantic Diner in Middletown. But you can also eat in Downtown Newport
More Pictures of Newport Beach
- See a old picture of the pavillion burning ... First Beach Pavillion
DIRECTIONS:
Located on Memorial Blvd. in
Newport
. This beach is easy to find. Travel to Newport RI and stay awhile, you'll love it!

Disclaimer: As with everything in RI, you can almost bet this information and the rates will eventually change.

---
Rhode Island Grocery Shoppers Shop Online with RI Peapod Stop and Shop
No more tan lines! Get a tan through your clothes with Cooltan Tan-Through Shirts
Popular Rhode Island hotels - If you need a place to stay in Rhode Island be sure to check these popular hotels.
Rhode Island Attractions - There's more to Rhode Island than just the beaches!