Charlestown Beach, RI
Charlestown Town Beach is a really nice place to go visit.
The sand is so deep and soft. The waves roll upon the beach and slowly slip away.
Haven't seen too many people swim here though, and if they do get in the water, they don't go very deep.
Charlestown Beach is a town beach, so there is not a whole lot of places to park, and most spots are taken up by the residents of Charlestown. I'm not sure what the fee is, but it's not very much.
The rule pretty much in New England is that the beaches are free, but you pay to park. Hmmm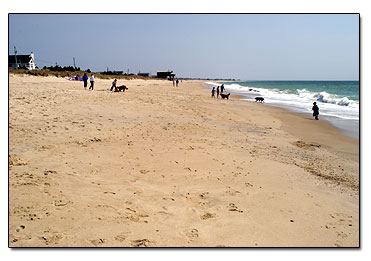 A lot of people come to Charlestown Beach to walk along the shore for their health, but it's not easy walking, because there is so much sand.
There are certain times of the year that the beach gets pebbly with assorted sizes and shapes of smooth round stones, absolutely no seashells.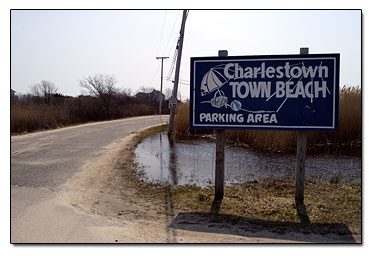 There are lots of beach cottages along the coastline. and most of them sit up in the air about twelve feet.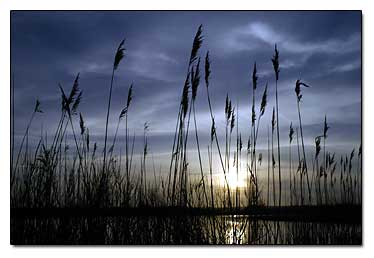 There are snack shops, and craft shops along the road. A nice marina and kayaking shop is nearby too. If you come to Charlestown, you have got to go eat at the Nordic Lodge Lobster Buffet
DIRECTIONS: Head towards Charlestown using Route 1 North or South, watch for signs.
Find a Charlestown RI motel

Disclaimer: As with everything in RI, you can almost bet this information and the rates will eventually change.

---
Rhode Island Grocery Shoppers Shop Online with RI Peapod Stop and Shop
No more tan lines! Get a tan through your clothes with Cooltan Tan-Through Shirts
Popular Rhode Island hotels - If you need a place to stay in Rhode Island be sure to check these popular hotels.
Rhode Island Attractions - There's more to Rhode Island than just the beaches!