Burlingame State Park Beach, RI
Burlingame State Park is in Charlestown, RI.
Watchaug Pond is the name of the lake, and Kimball Wildlife Refuge is nearby.
Burlingame is a large park with a small beach.
The surrounding land has changed owners many times.
It's a nice, laid back place to hang out, great for families.
The water is pretty clean and stays shallow for a long way out for the kids.
They offer swimming lessons during the summer, and it is a popular place for kayaking and ski-dooing.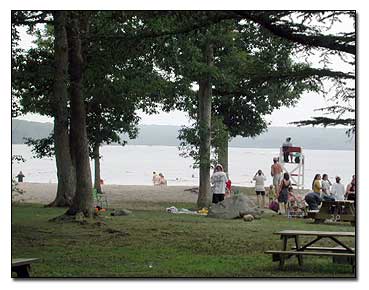 There is a boat launch close by, and people use it frequently to take their boats out in the lake to fish. There are plenty of picnic tables and also grills for your hamburgers.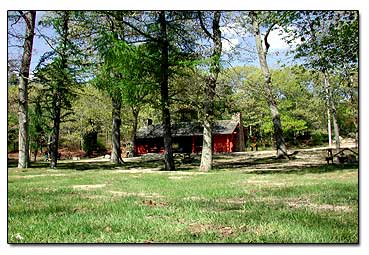 There is no charge to get in unless you need a table, and the tables are $2.00. Burlingame Campground is about two miles away. You can see the campground beach from the picnic area. We've stayed at the campground before and loved it.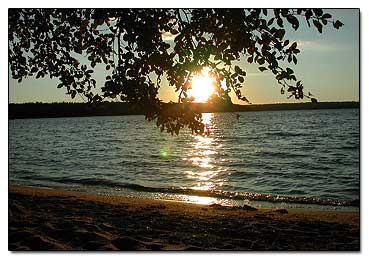 Directions from East (Newport):
Take Route 138 West over the Newport and Jamestown Bridges to Route 1 South, and follow it till you go past Charlestown, and start seeing signs for Burlingame.
Directions from I 95 North:
From I-95 South take Route 4 South which will merge into Route 1 South; go past Routes 2 & 112 and you will soon see a sign for Burlingame. If you see a sign for Burlingame Campground, you went to far.
Directions from I 95 West:
From I-95 take Exit 92, turn right at Route 2, Go South to Hwy175 Beaches, make a right. Follow 175 till you get to Route 1 and make a left. Travel about 8 miles and you'll start seeing signs. Don't take the one that says Burlingame Campground. Stay in your left lane and make a U turn to head South on Route 1, the next sign should be for the Burlingame Picnic area. Exit and make a right and follow the road for a couple miles and Burlingame entrance will be on your left.

Disclaimer: As with everything in RI, you can almost bet this information and the rates will eventually change.

---
Rhode Island Grocery Shoppers Shop Online with RI Peapod Stop and Shop
No more tan lines! Get a tan through your clothes with Cooltan Tan-Through Shirts
Popular Rhode Island hotels - If you need a place to stay in Rhode Island be sure to check these popular hotels.
Rhode Island Attractions - There's more to Rhode Island than just the beaches!