Bristol Town Beach Rhode Island
Bristol Town Beach is located in Bristol, RI.
There are lots of seashells for the children to gather up, and they built a large new playground.
There is plenty of picnic space and a nice shelter, or you can lay out on a beach towel for a great suntan.
Historic Bristol is a beautiful community with breathtaking water views from almost anywhere you look.
Surrounded by Mount Hope Bay to the east and Narragansett Bay to the south and west, Bristol is indeed the most amazing New England waterfront town.
This first picture is of a small woods that has a path that will take you to Colt State Park.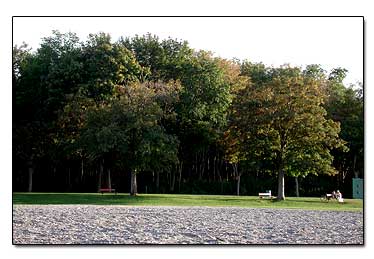 This bottom picture is of the snack bar and playground at Bristol town beach.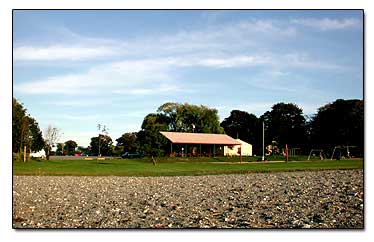 This third picture is of the beautiful sunset you can see at Bristol Town Beach.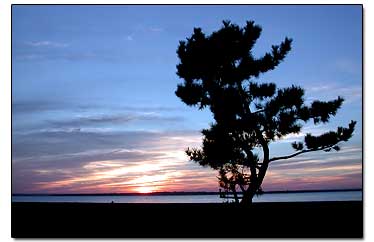 The town of Bristol is very historical with old mansions and large old trees lining the Main St. The center line down the main street of town is painted red, white, and blue instead of yellow. We love driving through their downtown area. It's loaded with history. In Bristol, people stroll the tree-lined streets, capture the many beautiful seascapes or frequent the numerous shops. They can enjoy a meal in one of the many fine restaurants while surrounded by the history of a seafaring town.
Next to Bristol Town Beach is Colt State Park. Colt State Park doesn't have a beach there, but the picnic grounds are large, it's easy to fly a kite, and there's a boat launch too. You can actually walk from Bristol Town Beach to Colt State Park by ways of a small plot of woods, shown in the picture. This is a nice area to visit and relax.
DIRECTIONS: From north or south, Hwy. 114 to Asylum Rd The entrance is not hard to miss, it's the same entrance as Colt State Park. They have two sculpted lions on pedestals at the entrance.
Other Things to Do
Coggeshall Farm Museum - Poppasquash Rd Bristol, RI 02809 (401) 253-9062
Herreshoff Marine Museum - 1 Burnside St Bristol, RI 02809 (401) 253-5000
Wilson Gallery of Fine Art - 251 Thames St Bristol, Town Of, RI 02809 (401) 254-0606
Past Time Theatre - 91 Bradford St Bristol, Town Of, RI 02809 (401) 253-2504
Stay at the Bristol Harbor Inn 259 Thames Street Bristol, RI

Disclaimer: As with everything in RI, you can almost bet this information and the rates will eventually change.

---
Rhode Island Grocery Shoppers Shop Online with RI Peapod Stop and Shop
No more tan lines! Get a tan through your clothes with Cooltan Tan-Through Shirts
Popular Rhode Island hotels - If you need a place to stay in Rhode Island be sure to check these popular hotels.
Rhode Island Attractions - There's more to Rhode Island than just the beaches!