Webster Lake, MA
Webster Lake in MA is really a nice place to go, and here is a picture of the beach.
There are two walking tracks, a boat launch, basketball court, playground, concession stand, and plenty of parking.
The Webster lake beach is a memorial to World War II veterans.
They charge 20.00 bucks for nonresidents.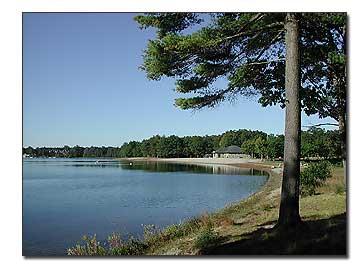 You just won't believe the name of this lake though, it's called,
Lake Chargoggagoggmanchauggagoggchaubunagungamaugg.
We were told it's a name the Indians gave it, and it means,
"You fish on your side, I fish on my side, and nobody fish in the middle."
Below is a picture postcard of old Webster Lake. It was a tourist hotspot, even in 1902.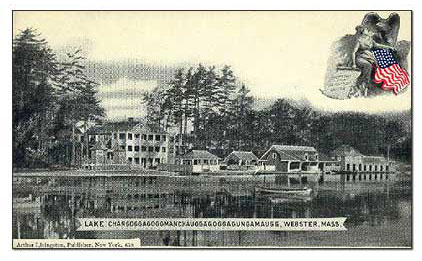 Driving Directions: If you are traveling in Connecticut, you need to head towards Hartford, get on I 84 toward Boston. Right as you start seeing signs for the Mass Turnpike you are going to have to Exit. The Exit # is 73. That will put you on Hwy. 190. Follow 190 till you reach a large intersection and make a right, that will put you on Hwy. 171 going East. Follow this road about 4 miles till you come to a Y in the road. Go straight, on Hwy. 197 for about 20 miles that will take you right into Webster. Follow this road all the way till it deadends and make a right.
This puts you right alongside the Lake. Follow this road a couple of miles and then make another right at the entrance.(There is a police station on the corner) You can't miss it because they have a huge sign that says Lake Chargoggagoggmanchauggagoggchaubunagungamaug. Visit Webster Lake to see great Fall Foliage too.
---
Cooltan - Tan Through Swimsuits
- Here's a new product on the market that you can't buy in a store. Now you can get a tan through your swimwear! Cooltan Tan Through Swimwear works like a medium level sunscreen. Look great and eliminate tan lines!
Popular US Hotels - If you need a place to stay on the East Coast while at a beach, see a list of all the popular hotels, motels, inns and suites by state.