Savin Rock Beach
West Haven CT
Here's some nice photos of Savin Rock, CT.
Savin Rock is a big popular beach, and has been that way for years.
This picture was taken during the winter, you can see some snow, and the beach is empty.
There is a nice long walkway by the water's edge at Savin Rock for a stroll in the cool breeze off the Atlantic Ocean.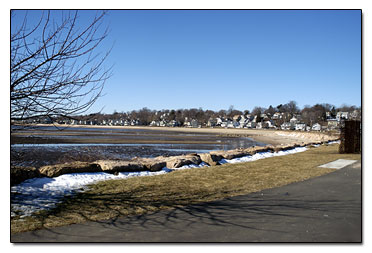 Benches to sit on and relax, and take in the scenic view of Long Island Sound, and all the little cottages at the shore's edge makes it very picturesque.
There's also a popular restaurant at Savin Rock named Jimmies.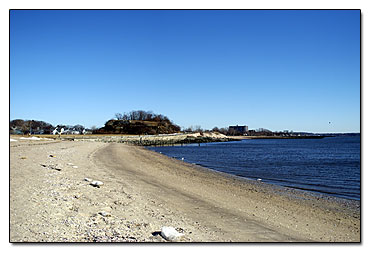 There used to be an amusement park here with a roller coaster called The Thunderbolt, that went out over the water. It was destroyed in the Hurricane of 1938. They built a museum so you can see all the old pictures of the amusement park.
More Pictures of Savin Rock
- A picture of a couple strolling behind the Savin Rock Museum... couple strolling
- A view of the Savin Rock Learning Center... Savin Rock Learning Center
- A view of the Savin Rock Museum location... Savin Rock Museum
- A view of Savin Rock beach from the road... beach view
- The sign at the turn for the Savin Rock Museum... Museum sign
- West Haven and Jimmies Restaurant... Jimmies Restaurant
DIRECTIONS: Savin Rock Beach is a nice popular beach near New Haven, Connecticut. Exit 42 off of Interstate 95 and go south, follow the signs. Parking Fees $10 / day, $5 after 4 pm
Disclaimer: As with everything in CT, you can almost bet this information and rates will eventually change.
---
Connecticut Peapod - Peapod online grocery shopping and delivery- get $10 in FREE groceries
Cooltan - Tan Through Swimsuits - Here's a product on the market that you can't buy in a store. Now you can get a tan through your swimwear! Cooltan Tan Through Swimwear works like a medium level sunscreen. Look great and eliminate tan lines!
Get Married in CT - A great resource for brides and grooms in Connecticut. Suggestions on locations, tips for the couple, and a wedding day timeline. How about a beach wedding?
Connecticut Hotels - If you need a place to stay in Connecticut, see a list of all the popular hotels, motels, inns and suites by city.