Greenwich Beach, Greenwich CT
Here's a picture of Greenwich Beach taken in the Fall at low tide.
Look at the cool ripples in the sand.
This happens because the tide goes out so slow.
There's lots of sand at Greenwich Beach, and several shelters too for picnics.
Very few people are at the beach today even though Greenwich Point Park is considered a public beach now.
They had a big fuss over who was allowed on the beach, so read the new rules below.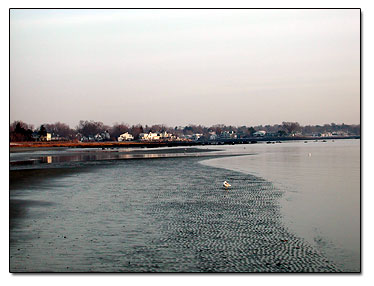 Seasonal passes are available only to residents for $20. Summer rental residents may also obtain a seasonal pass for $250. Cost to get in without a pass is $10.00 a person. Seasonal parking passes are only available to seasonal pass holders.
The vehicle sticker is free for those with vehicles registered in Greenwich, while residents and summer residents with vehicles not registered in Greenwich must pay $100.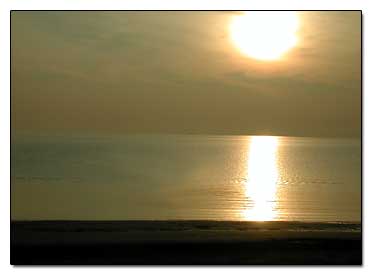 Day parking passes cost $20.00 per car. Parking is available to residents and nonresidents, on a first-come, first-serve basis, but you can't park on the islands. Passes are not available at the beach. You have to go to the civic center which is about a mile away from the beach and pay in cash. The passes are only good for Greenwich Point and Byram Parks. Individual and day parking passes are also sold at the town hall, which accepts cash, check, or money order. While the civic center is open 7 days a week, town hall is only open Monday through Friday from 9:00 a.m. to 3:00 p.m.
Did you know that even in 1931 they had swimming pass ID's for local residents of Island Beach and Byram Park? On the back of these cards they stated, "On Saturday, Sundays and holidays the charge is 10 cents for passage on the Island Beach boat. The bathing charge is 25 cents. This card obtained for you the preferred residents rates." These cards were 2 1/2 inches by 4 inches.
DIRECTIONS: Exit 2 off of Interstate 95, go south on Shore Rd all the way.
Disclaimer: As with everything in CT, you can almost bet this information and rates will eventually change.
---
Connecticut Peapod - Peapod online grocery shopping and delivery- get $10 in FREE groceries
Cooltan - Tan Through Swimsuits - Here's a product on the market that you can't buy in a store. Now you can get a tan through your swimwear! Cooltan Tan Through Swimwear works like a medium level sunscreen. Look great and eliminate tan lines!
Get Married in CT - A great resource for brides and grooms in Connecticut. Suggestions on locations, tips for the couple, and a wedding day timeline. How about a beach wedding?
Connecticut Hotels - If you need a place to stay in Connecticut, see a list of all the popular hotels, motels, inns and suites by city.