Seaside Park Beach, Bridgeport
This is a picture of Bridgeport Beach in Seaside Park.
On the day I was there it was cool and clear.
This beach gets packed during the summer.
It''s a nice place to go, lots of room.
And the best part is, the Bridgeport Lighthouse is close by.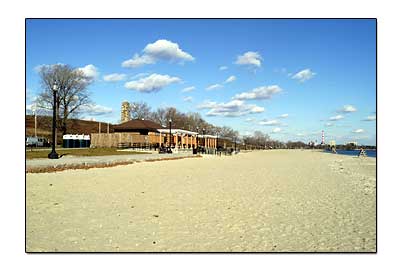 They do charge to get in during the summer. Seasonal Passes are $5 for residents and $30 for nonresidents.
They are available at the Park Office in Turmoil and Dupe's Drug Store in Bridgeport. They can be paid for by cash or check.
Daily parking fees are $10 for Connecticut resident without a Bridgeport Park Sticker and $20 for out of state residents. These may be purchased at park checkpoints.
All parking lots are available to any season or day pass holder regardless of residency. All cabanas, concessions and showers are open to all park users regardless of residency.

Do not park in a No Parking Zone, the parking ticket is 20 bucks.
Bridgeport CT Seafood Restaurants
LaFamilia Restaurant - 960 Main St Bridgeport, CT 06604
Park Avenue Seafood - 382 Park Ave Bridgeport, CT 06604
Things to do in Bridgeport CT
1. Visit the Housatonic Art Museum - 510 Barnum Ave
2. Take a ride on the Port Jefferson Ferry - 98 Ferry Access Rd
3. Visit the Barnum Museum - 820 Main St Bridgeport, CT 06604
4. Go to the movies - Polka Dot Playhouse - 177 State St (203) 333-6211
5. Downtown Cinema - 275 Fairfield Ave
6. Visit Captain's Cove and have some fun shopping and dining
7. Take a walk to the lighthouse at Seaside Park.
8. Go to the Cabaret Theatre - 263 Golden Hill St
Disclaimer: As with everything in CT, you can almost bet this information and rates will eventually change.
---
Connecticut Peapod - Peapod online grocery shopping and delivery- get $10 in FREE groceries
Cooltan - Tan Through Swimsuits - Here's a product on the market that you can't buy in a store. Now you can get a tan through your swimwear! Cooltan Tan Through Swimwear works like a medium level sunscreen. Look great and eliminate tan lines!
Get Married in CT - A great resource for brides and grooms in Connecticut. Suggestions on locations, tips for the couple, and a wedding day timeline. How about a beach wedding?
Connecticut Hotels - If you need a place to stay in Connecticut, see a list of all the popular hotels, motels, inns and suites by city.