Black Rock State Park Beach
Black Rock State Park is north of Waterbury, CT and has a fresh water pond and a small beach.
When we took these photographs it was off season, that's why the beach is empty.
Black Rock is a really nice park, and they have 96 camping spots available with reservations.
Sometimes, if you don't have reservations, they will let you do some camping on a first come, first serve basis.
The beach is not real big, but it has nice sand. The interesting thing about the beach is the incline.
It's about a forty five degree drop towards the water. So I can envision people running down the hill and jumping in.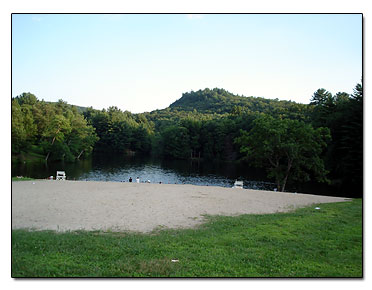 The Black Rock State Park trails start behind the log cabin. While we were walking the grounds, we saw restrooms, changing rooms, lots of picnic tables, and fields for playing. There is a smaller pond for children to try their luck at fishing. All in all, we felt that the park was very scenic, well maintained, and has lots of parking spaces.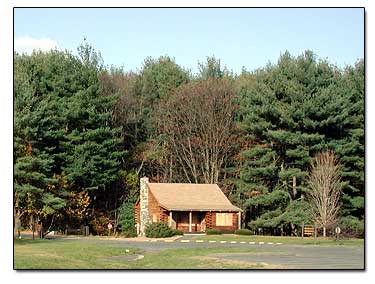 The bottom picture is of the large field to the right of the entrance, where we have seen people camping during the busy summer.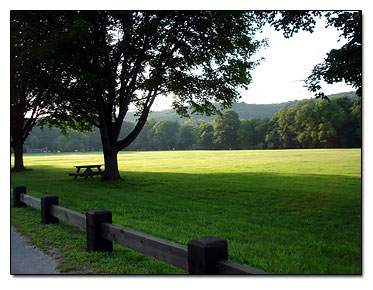 On the way to Black Rock State Park, the drive will take you through a historic little town called Watertown that you will enjoy checking out, it is very quaint and scenic.

Directions:
From Waterbury, CT take Route 8 North to Exit 38, then take Route 6 East. Follow the signs.
Disclaimer: As with everything in CT, you can almost bet this information and rates will eventually change.
---
Connecticut Peapod - Peapod online grocery shopping and delivery- get $10 in FREE groceries
Cooltan - Tan Through Swimsuits - Here's a product on the market that you can't buy in a store. Now you can get a tan through your swimwear! Cooltan Tan Through Swimwear works like a medium level sunscreen. Look great and eliminate tan lines!
Get Married in CT - A great resource for brides and grooms in Connecticut. Suggestions on locations, tips for the couple, and a wedding day timeline. How about a beach wedding?
Connecticut Hotels - If you need a place to stay in Connecticut, see a list of all the popular hotels, motels, inns and suites by city.