Trip Planning
How to Plan Your Trip
This year we have decided to take a trip to Florida to visit some friends.
Since we live in Connecticut, we realized that this is a long trip, (at least 22 hours) and it is going to take some special planning for this trip.
I decided to make sort of a journal about our trip, along with taking pictures of attractions and places we stay along the way.
According to our Microsoft Streets and Trips, from Connecticut to Florida it is a straight shot down Interstate 95 to Florida.
However, we need to stop in Washington DC for our niece's wedding. The wedding is being held in Old Town Alexandria, and the reception is on the 17th floor of the Freedom Forum in Arlington, VA.
Our trip plan is to drive to DC for the wedding then go ahead and keep traveling south to Florida, but we are not going to put a time limit on our travel, and may make this a two week vacation. Our friends live in Fort Myers Florida, which as it turns out, is pretty far south, on the Gulf of Mexico side of Florida.
So here's what we have done so far, since we are leaving this weekend.
Our Basic Trip Planning Guide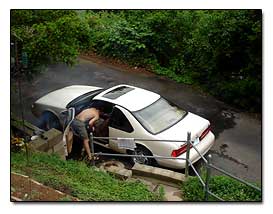 1. Make out the bills that need to be paid while you are gone and mail before you go.
2. Study a map of your trip. We have Microsoft Streets and Trips with a GPS on our laptop. We also purchased a Garmin Streetpilot i2 You can also try Rand McNally Trip Planner, but it only gives you 10 stops, and if you go back later to complete it you'll find that it's deleted unless you sign up. I also tried using the trip planner for AAA but it was no use to me, they don't list campgrounds. So it looks like we're on our own to plan our trip.
3. Decide if you will do campgrounds or hotels on the way down. If you choose campgrounds, here is a camping list, if hotels, check the state hotels.
4. Changed the oil in the car, make sure your license, insurance and plates are uptodate.
5. Go through your clothes to see what to take. Do the laundry. Put some dryer sheets in your suitcase and shoes, like Bounce.
6. Go through your toiletries, sort and pack. Grab a couple towels and wash cloths, and roll of TP. Brush, makeup, first aid kit.
7. Pack the camping stuff, if you are going to camp, here is a camping list
8. Pack the tech stuff, make sure you have your car adapters for the cell phone, camera, laptop, gps, and whatever else. Get spare batteries and charge the rechargeables.
9. Go to the bank, check your account, get travelers checks if desired.
10. Pack some books to read, notepad, pens, or even make a travel scrapbook.
Beginning our Roadtrip to Florida
We left Shelton at 12 midnight. It was raining outside but we knew that we would that we needed to travel at night just to get through New York. It was pouring raining outside, and even though we were just traveling Interstate 95 straight through, it was still kind of scary driving in unfamiliar surroundings.
It was still raining through New Jersey. I was suprised to see how huge Newark New Jersey is. After passing out first toll at the New Jersey Turnpike entrance I fell asleep and didn't awaken until we pulled into a rest area called Clara Barton. It was still raining.
It didn't stop raining until we hit Delaware. We went over a huge bridge and had to pay a toll of 3.00 then at the end of Delaware, we had to pay another toll of 3.00. Then we entered Maryland and followed the signs to Baltimore. I called my sister, it was 5AM to see where they were. They were just leaving Pittsburgh, PA.
We went through a long tunnel called the Fort McHenry Tunnel and had to pay a toll to do so. We followed 495 around Washington DC and exited Old Town Alexandria at exit 177B. We parked in a little park called Harborside Park by the Potomac River, Jones Point Park was closed. By the way, they are rebuilding the bridge over the Potomac.
More pictures of Old Town Alexandria
- Condos at the Harborside Park in Old Town Alexandria... Harborside Condos
- The decorative staircase of the condos at Harborside Park... staircase
- A typical building in downtown Old Alexandria... building
- A view of the downtown area in Old Alexandria... street picture
- Old Town Alexandria downtown movie theatre... movie theater
- Our best view of downtown Alexandria... distant building
First Stop Pohick State Park, VA
---
Cooltan - Tan Through Swimsuits
- Here's a new product on the market that you can't buy in a store. Now you can get a tan through your swimwear! Cooltan Tan Through Swimwear works like a medium level sunscreen. Look great and eliminate tan lines!
Popular US Hotels - If you need a place to stay on the East Coast while at a beach, see a list of all the popular hotels, motels, inns and suites by state.