Plymouth Beach, MASS
After loading up the camera with pictures of downtown waterfront in Plymouth, we went looking for Plymouth Beach.
There wasn't any signs for it as we traveled south on 3A and happened upon it by chance.
We were surprised how long the beach is, no wonder they call it Long Beach.
Most of the beach area where we parked was rocks.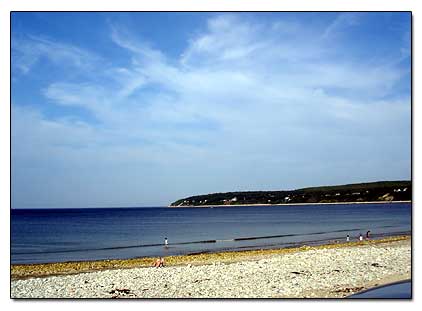 We went to a snack bar here called Sandy's and ordered a large coke, and it was half the size of the large cokes in Cape Cod.
There are lifeguard stands here, but Plymouth Long Beach looks old and well worn.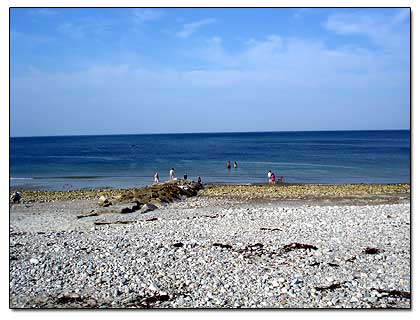 The beach looks kind of empty considering it's a Sunday in the middle of July. No one was swimming and the tide was real low. I was just thinking, if there was more sand on the beach, it would look like Revere Beach. The waves are calm and it sits in a cove.
The picture below is looking north, you can see the seawall where everyone parks.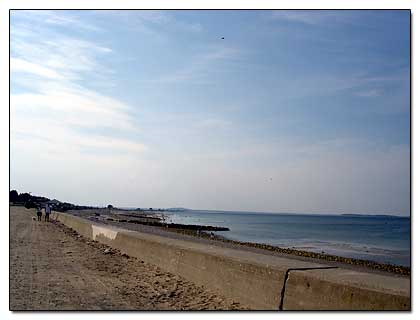 There was no charge to get in, but we were here after five, and it looks like people are free to bring their dogs here for a walk too.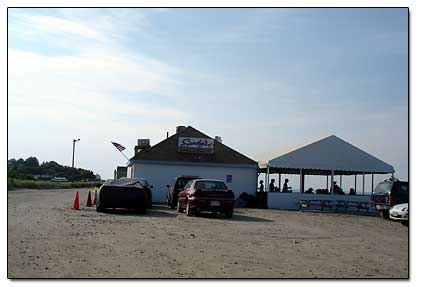 More Pictures of Plymouth Beach
Picture of Bert's Restaurant where you turn... Bert's Restaurant
Part of Sandy's Snack bar menu, where it says no shirts, no shoes, are okay. Menu
There is another beach in Plymouth called Nelson Beach
Driving Directions
Take Hwy 3 A south out of Plymouth, it's a couple of miles, you'll go down a small hill and you turn left. On the right there is a condemned house. There are no signs. Make a left at Bert's Restaurant, drive passed the blue building with the sign missing, and park where all the cars parked near the beach.
---
Cooltan - Tan Through Swimsuits
- Here's a new product on the market that you can't buy in a store. Now you can get a tan through your swimwear! Cooltan Tan Through Swimwear works like a medium level sunscreen. Look great and eliminate tan lines!
Popular US Hotels - If you need a place to stay on the East Coast while at a beach, see a list of all the popular hotels, motels, inns and suites by state.