Hammonasset State Park Beach, CT
Here's a beach picture of Hammonasset State Park.
When you enter the park you'll come to a rotary that will direct you to go to the East Beach, or to the West beach.
If you choose the West Beach, you'll find that there is a huge parking lot, and people bring their bicycles here to ride.
Also, rollerblading is a popular activity.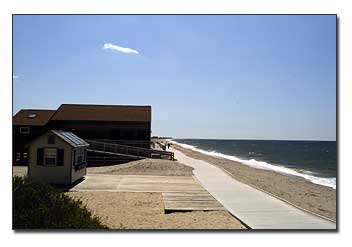 The picture is of the new boardwalk at the West Beach. The walk along the Hammonasset shoreline is two miles from the West Beach to Meigs Point. The campground is nearby, and you can walk to this beach, which is what makes it so popular for camping. To us, the waves seem high here at the East Beach, like they are always crashing the shore. When we took these pictures it was high tide, and the water looks deep.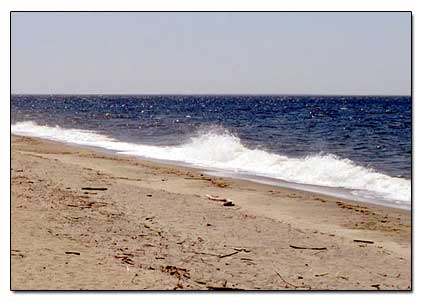 The ocean breeze makes flying kites at Hammonasset very enjoyable for the whole family, and don't forget your Frisbees, because there are plenty of fields with lots of space. The beach is really big, and most likely the East beach is the one that is used for swimming. The jetty keep the waves down, and keeps the sand from washing away. The sand is a coarse yellow sand with small pebbles.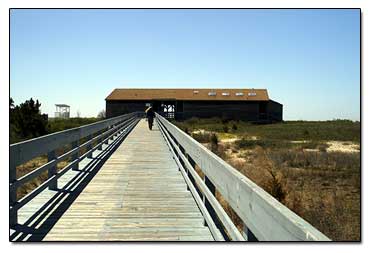 The East beach is right across from the Nature Center, which we noticed they are remodeling on the outside. There really didn't seem to be a lot of parking spaces, unless we missed a parking area somewhere. Tuxis Island, off Madison, is said to have yielded "a great quantity of eighteenth-century coins" for a group of campers in 1903.
Disclaimer: As with everything in CT, you can almost bet this information and rates will eventually change.
---
Connecticut Peapod - Peapod online grocery shopping and delivery- get $10 in FREE groceries
Cooltan - Tan Through Swimsuits - Here's a product on the market that you can't buy in a store. Now you can get a tan through your swimwear! Cooltan Tan Through Swimwear works like a medium level sunscreen. Look great and eliminate tan lines!
Get Married in CT - A great resource for brides and grooms in Connecticut. Suggestions on locations, tips for the couple, and a wedding day timeline. How about a beach wedding?
Connecticut Hotels - If you need a place to stay in Connecticut, see a list of all the popular hotels, motels, inns and suites by city.