Clinton Town Beach
CLINTON TOWN BEACH:
Seasonal Passes are available only to residents for $10 and to resident senior citizens for $5.
Day Parking Passes cost $20 for nonresidents. They may be purchased from the gatekeeper 9 a.m. to 3 p.m. daily (weather permitting) during beach pass season with cash or check. Parking lot is adjacent to the beach and open to all paying vehicles.
The following information was submitted by: Cynthia Stulpin, President Clinton Beach Assn, Inc

"There are two beach areas in Clinton with similar names. One is Clinton Beach and the other is the Clinton Town Beach. The first was established around 1900 as a vacation destination, thus it's name. The town beach was established later. Clinton Beach is still a private community, whereas the Town Beach is the public beach
This older postcard (not sure of the date) is standing on the beach looking inland, toward the harbor.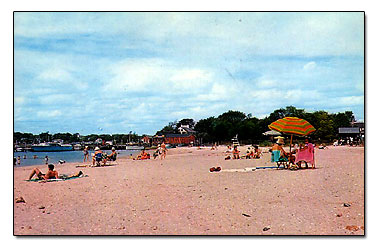 The 1997 postcard below is taken from about the same location, but looking ''seaward" (out to Long Island Sound).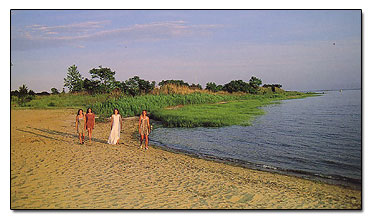 Cynthia also writes, " It might also interest you to know that the "fields" in the old aerial photo below, are still there. The ones on the right side are now officially a wildlife sanctuary. The ones to the left side of are mostly owned by the state, but some still belong to the property owners that have the house(s) in front."
For the fun of it, if you'd like to see more of Clinton Beach (not the Town Beach), surf on over to Cynthia's site, www.idigclintonbeaches.org. It's still a work in progress, but you might enjoy some of the photos.
(Thank you Cynthia for submitting this information, Vlad and Carol)
Disclaimer: As with everything in CT, you can almost bet this information and rates will eventually change.
---
Connecticut Peapod - Peapod online grocery shopping and delivery- get $10 in FREE groceries
Cooltan - Tan Through Swimsuits - Here's a product on the market that you can't buy in a store. Now you can get a tan through your swimwear! Cooltan Tan Through Swimwear works like a medium level sunscreen. Look great and eliminate tan lines!
Get Married in CT - A great resource for brides and grooms in Connecticut. Suggestions on locations, tips for the couple, and a wedding day timeline. How about a beach wedding?
Connecticut Hotels - If you need a place to stay in Connecticut, see a list of all the popular hotels, motels, inns and suites by city.