Beach Pond State Park, Voluntown CT - RI
Here's a picture of Beach Pond, in the beach area.
Beach Pond is a large fresh water lake East of Voluntown, CT.
The park is considered part of a Rhode Island State Park, even though half of it is in Connecticut.
Beach Pond is not really big, but it is great for families.
The sand at Beach Pond is about six inches deep in the water, and it stays shallow for about 50 feet, then suddenly drops.
Lifeguards are on duty during the summer. There is a nice concession stand, drinking fountains, and restrooms.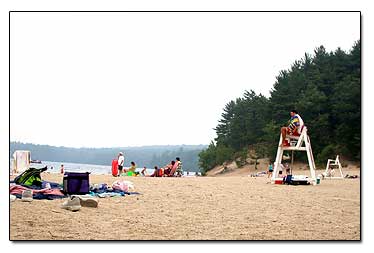 Hiking
There are long trails through the park that many people like to hike, and we heard there is rock climbing going on in the state park area, but we have never gone into the park area, and couldn't even tell you where the entrance is.
The trail starts right by the snack bar, just go up the hill and you'll be on it. This would also be a good place to see some awesome Fall Foliage too.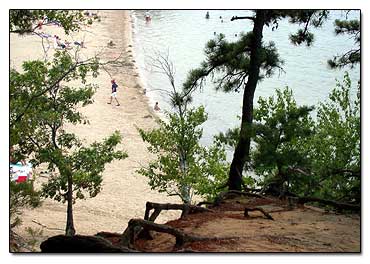 Picnicing
I have seen people picnic at Beach Pond, even though I don't remember there being any picnic tables. They just spread a blanket, or drop the tailgate on their truck. There are long trails through the park that many people like to hike. There is a fee charged during the summer, but we're not sure how much it is, because we always seem to show up here after five. The beach looks huge in the picture below, but that is because they drop the water level in the winter.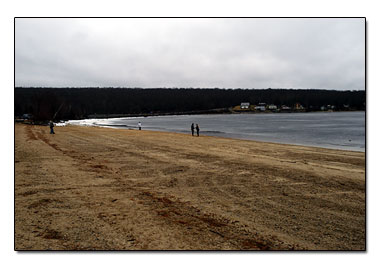 Kayaking
We've seen kayaks, canoes, ski doos, and motorboats on the lake. Fishing is allowed, but not in the swimming area of course. It's also located south of Pachaug State Forest, so be sure to take a drive through there while you are in the area.
We have a lot of friends that visit Beach Pond to jump in the coolness of the fresh water, and sometimes we go with them. But Beach Pond is not convenient from where we live to be visiting here all the time. That's too bad, because it's a nice place to go.
DIRECTIONS:
Beach Pond is located on Highway 138 that can be accessed from Interstate 395 via Exit 85. It's about four miles east of
Voluntown, CT
Disclaimer: As with everything in CT, you can almost bet this information and rates will eventually change.
---
Connecticut Peapod - Peapod online grocery shopping and delivery- get $10 in FREE groceries
Cooltan - Tan Through Swimsuits - Here's a product on the market that you can't buy in a store. Now you can get a tan through your swimwear! Cooltan Tan Through Swimwear works like a medium level sunscreen. Look great and eliminate tan lines!
Get Married in CT - A great resource for brides and grooms in Connecticut. Suggestions on locations, tips for the couple, and a wedding day timeline. How about a beach wedding?
Connecticut Hotels - If you need a place to stay in Connecticut, see a list of all the popular hotels, motels, inns and suites by city.